African American Women & Sarcoidosis Campaign

African American women bear the greatest burden when compared to all other groups impacted by sarcoidosis. They experience higher hospitalization and mortality rates and are more severely impacted by the disease with more organ involvement and severe symptoms than Caucasians and African American men.  
Meet the Faces of the Campaign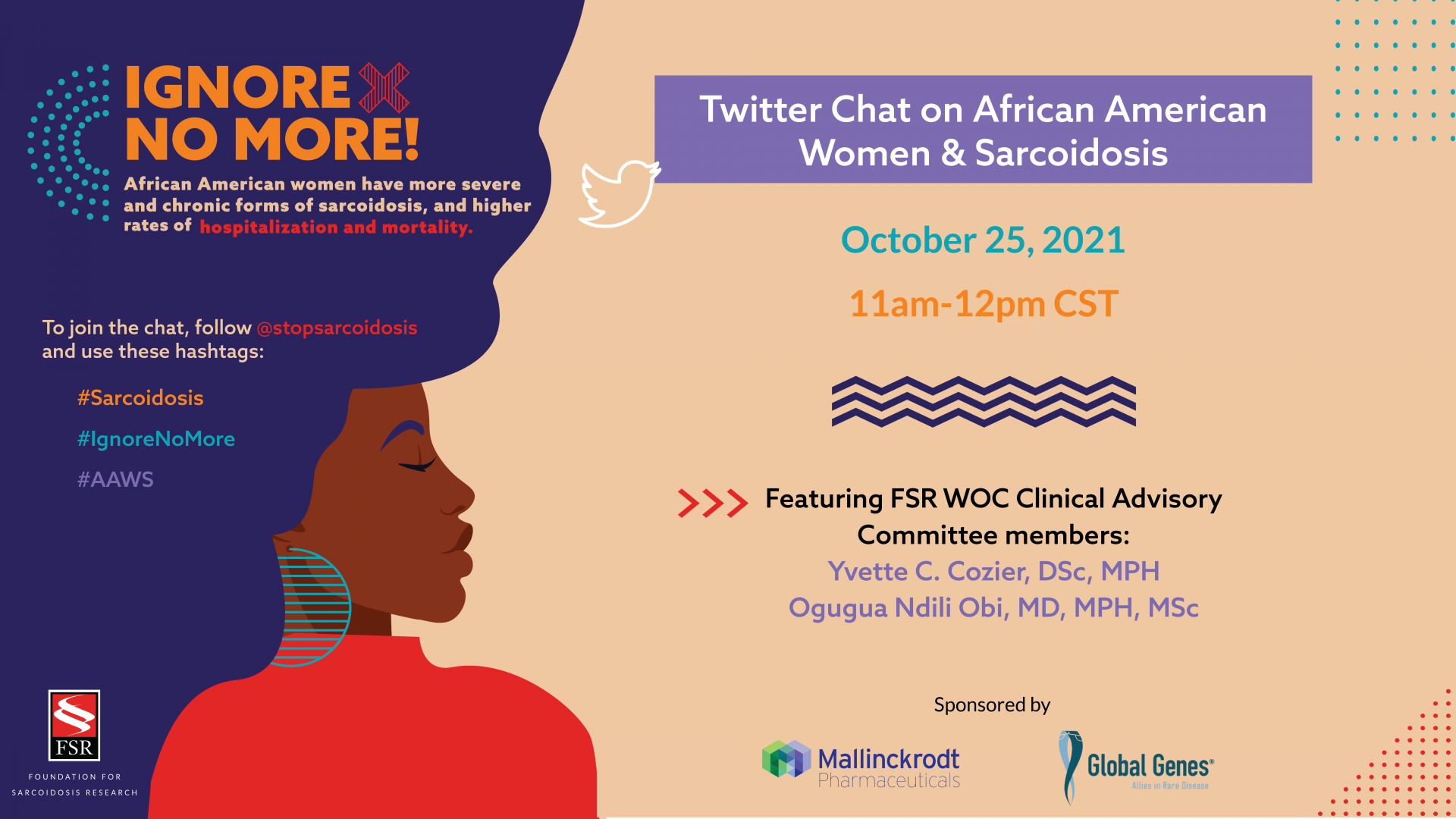 October 25, 2021 - Twitter Chat on African American Women and Sarcoidosis
What are the types of sarcoidosis? Are certain types of sarcoidosis more prevalent in certain demographics/African American women? What external/internal factors may attribute to sarcoidosis? What studies have been done that focus on African American women and sarcoidosis? What should someone do if they suspect they have sarcoidosis?
Join us for a Twitter Chat sponsored by Mallinckrodt Pharmaceuticals and Global Genes on Monday, October 25, 2021 from 11 AM -12 PM CST as FSR WOC Clinical Advisory Committee members Yvette C. Cozier, DSc, MPH and Ogugua Ndili Obi, MD, MPH, MSc join us to answer your questions about the prevalence of sarcoidosis in African American women and what is being done to help improve care.
To join the chat, follow @stopsarcoidosis on Twitter and use the hashtag:#IgnoreNoMore.
Thank You to Our Sponsors
Sources: Mirsaeidi, M., Machado, R. F., Schraufnagel, D., Sweiss, N. J., & Baughman, R. P. (2015). Racial difference in sarcoidosis mortality in the United States. Chest, 147(2), 438–449. Hena, K. M. (2020). Sarcoidosis Epidemiology: Race Matters. Frontiers in immunology, 11. Foreman, M. G., Mannino, D. M., Kamugisha, L., & Westney, G. E. (2006). Hospitalization for patients with sarcoidosis: 1979-2000. Sarcoidosis, vasculitis, and diffuse lung diseases: official journal of WASOG, 23(2), 124-129.