Building Momentum Towards a Cure
One of the major challenges within a foundation supporting medical research and patients is to determine priorities. FSR has been extremely strategic in determining how our organization can best lead to better lives for patients.  One of our primary priorities is to accelerate sarcoidosis research which will lead to treatments and possibly a cure.
Our strategy is to leverage our capacity to ensure other stakeholders push their resources into the sarcoidosis disease space. One of the main objectives of FSR is to "prime the pump" within the sarcoid research space – to make the field of sarcoidosis research more inviting to those with much more extensive resources by filling some of the current gaps that serve as barriers (i.e. lack of data, lack of funding, lack of investigators, lack of awareness, lack of knowledge, etc.)
If FSR creates basic tools to help bridge these gaps, then bigger players, with much deeper pockets, will be enticed to join the field. We are literally building a case for why sarcoidosis is a viable field for industry, government and academia to enter. We build this case by addressing some of the basics gaps that currently keep them away.
FSR has developed a specific Scientific Research Agenda that outlines the main areas in which FRS will invest our resources.  This was developed by our Scientific Advisory Board by identifying what "gaps" exist in sarcoidosis research where, if filled, could result in the maximum impact.  We recognize our role is to bridge these gaps in various ways, including direct funding of studies, initiatives, and trials.
FSR invests our resources into 5 main research areas:
Animal Model – Major outreach has been put into place to secure funding for this critical discovery, both with individual giving prospects, pharma and government partnerships, and venture philanthropy. FSR is included in NIH discussions on the priority level of an animal model and a potential large-scale partnership. In addition, FSR is exploring alternative models to support, including human tissue models.
Patient Registry – Currently over 2,000 patients are registered and in 2017, we are launching an engagement plan that will hopefully lead to thousands more joining. We will continue the major cleanup and validation tasks, as led by our new Patient Registry Committee, as well as build a process manual defining the recruitment, validation, and data sharing processes. Further, we expect to publish several academic articles overviewing the registry and the data collected to date, and FSR was accepted to present a poster on the registry during the May 2016 ATS conference.
End Point Development – In helping dire determination and consensus around what is the ideal measurements for assessing outcomes in trails and other treatments, FSR has been involved in discussions with NIH, FDA, WASOG, and AASOG members and key players underway; it may likely turn out that other projects and partnerships will result in endpoint development rather than this being a project on its own. The Scientific Advisory Board will determine the best pathway for this agenda item's progress.
Clinical Studies Network – Launched in 2015, this 8-member consortium brings together an international partnership of world-renowned medical institutes and researchers for unprecedented collaboration in studies and drug trials toward the treatment of sarcoidosis. 2016 focused on the first study, already under IRB approval, and will culminate with a published report which will help move the needle forward. In addition, FSR will continue to explore and potentially partner with pharma industry and others to utilize the CSN for additional, concurrent studies that can deliver valuable information.
Patient Resource & Education Program – 2017 programming will include maximizing and building the current expanded resources and tools including: facilitating our new suite of patient conferences, full rebuilding of the physicians outreach program and physicians directory, a new first-of-its-kind Sarcoidosis Patient Ambassador Program, increased engagement in the sarcoidosis online community, and continued expansion of the website and social media initiatives.
FSR embraces a model of medical research support that counters the traditional establishment. We seek to support, through direct funding or grant awards, projects that may be high risk and that have very little funding prospects from industry and government.
The current research system focuses on low-risk, low-yield to initiate reliable projects and studies. The approach has typically shown extremely slow advancement rates with little linking the research to actual patient therapies. FSR applies strategic use of our capital and collaboration to address the common "valley of death" need and to support more high-risk, innovative research.
Bridging the Valley of Death in Drug Development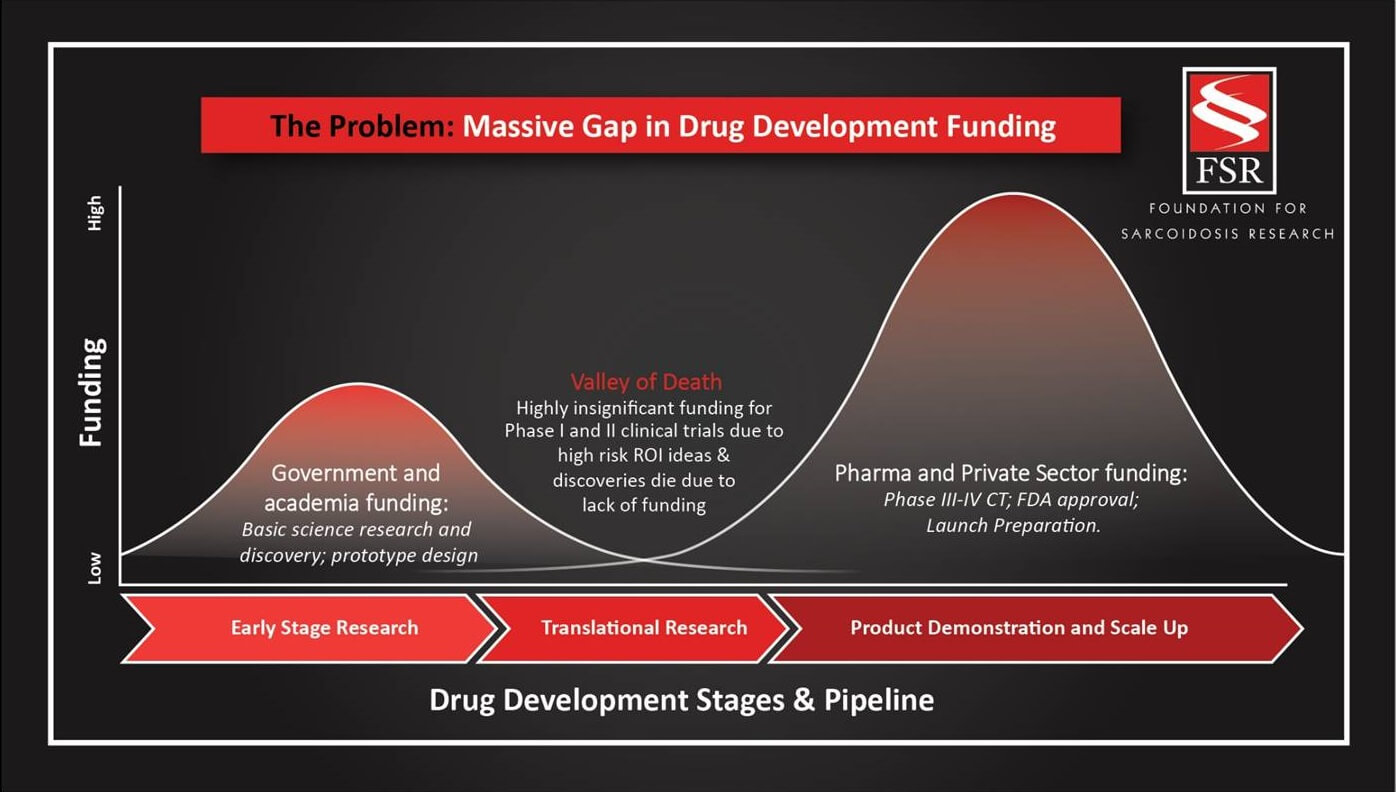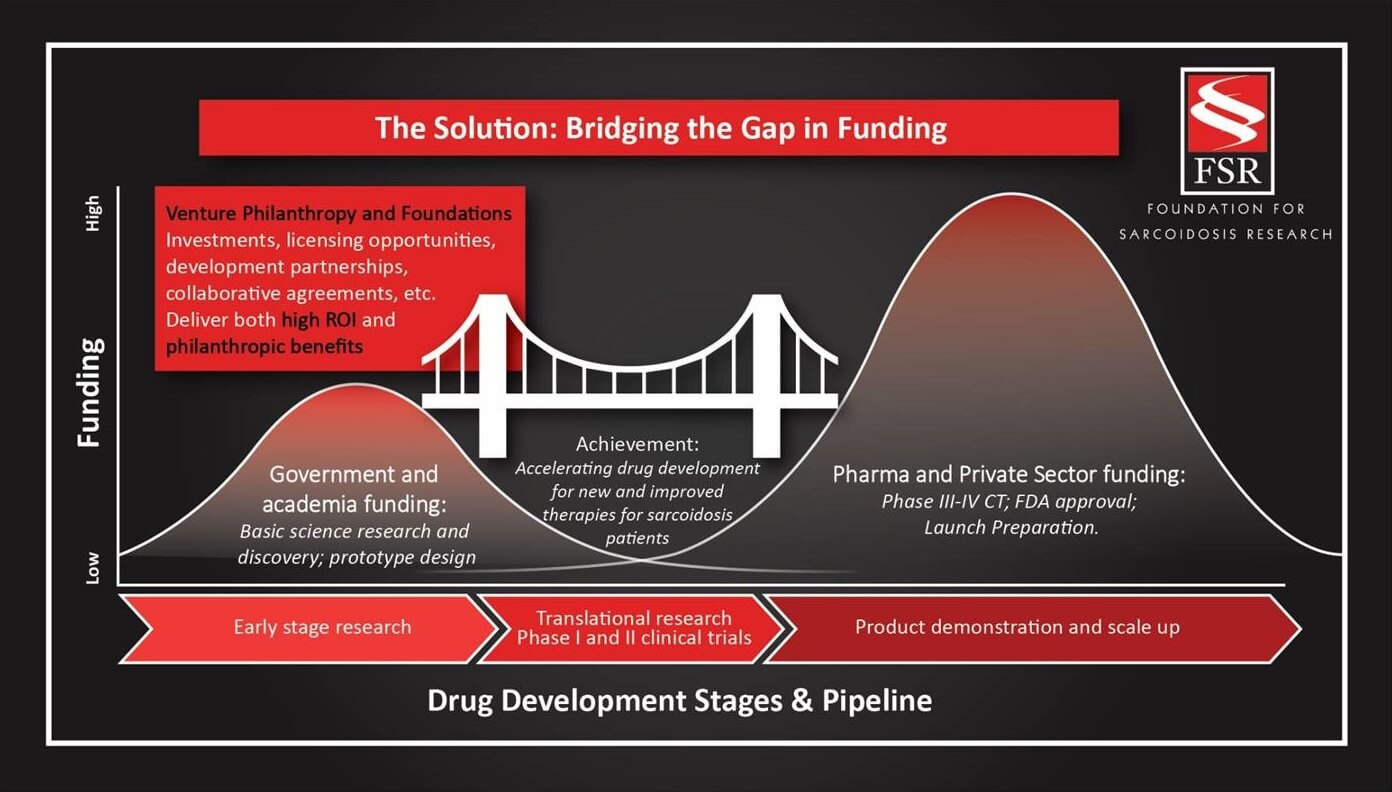 Meet our thought leaders, including our Board of Directors and Scientific Advisory Board.