Prescription Assistance Card
The Foundation for Sarcoidosis Research (FSR) is proud to partner with NeedyMeds to provide FSR community members with a prescription discount card. This discount card can offer provides you with up 80% off the price of prescription medications, over-the-counter medications written as a prescription, and pet medications purchased at a pharmacy. In addition, the card may provide 40% off durable medical equipment (DME) such as canes, crutches, incontinence supplies, diabetic supplies, and much more. The card can also save users an additional 5% discount on affordable lab tests. No doctor's order or insurance needed.
The card is accepted at over 65,000 pharmacies. The card is free with no registration or monthly fees. Usage is anonymous since there is no registration process. There are no eligibility requirements and income level, insurance status, residency, age, or diagnosis don't affect eligibility. The only restriction is that it can't be used with insurance or state or federal programs.
Financial Assistance Support for Those Living with Sarcoidosis
Financial and Estate Planning Basics in 12 Steps
Step 1: Organize, Simplify, Digitize. Organize all your information, such as medical information, emergency contacts, passwords and security codes, legal documents, and more.
Step 2: Create, Sign and Distribute a Power of Attorney. Designate an agent to handle your financial and legal matters. Choose a trusted agent and several successors. If you cannot afford an attorney, consider online legal resources, but take precautions (get educated, find friends/family to go through the process together).
Step 3: Create, Sign and Distribute a Medical Power of Attorney and HIPAA Release. Designate an agent to make your health care decisions. Verify that your agent has sufficient knowledge of your sarcoidosis and the decisions that might be required, and is geographically close enough to respond to a sudden emergency.
Step 4: Protect Your Child and Others. If you are a parent and your physical challenges grow, or you become disabled, a guardian appointment under a will won't cover care arrangements as it will only trigger on your death.

Step 5: Protect Distribution of Your Wealth. Wills are important, but if you're facing a possibly chronic illness like sarcoidosis, it is only one step of many and perhaps not the most important one.

Step 6: Create a Revocable Trust. A revocable living trust allows you to manage assets while disabled or ill — unlike a will, it addresses planning while you are alive and transfers funds into a trust.
Step 7: Tailor Your Documents and Planning To Your Specific Circumstances. "Standard" documents means boilerplate – be sure it is tailored to your needs and your experience with sarcoidosis.
Step 8: Review Insurance. Include reviews of life insurance, property and casualty insurance, business coverage, long-term care coverage, disability income, and liability coverage. Have all your insurance coverage reviewed at least every two years and evaluate your options each time.
Step 9: Review Beneficiary Designations. Consider all beneficiary designations: life insurance, pensions, IRAs, brokerage accounts and more. Have family members who name you as beneficiary instead consider a trust for you.
Step 10: Give Back. Giving back is empowering - include a charitable gift in your plans, make a donation, and/or include a bequest in your will. Include a a heartfelt letter of instruction to heirs and thanks to those who have helped.
Step 11: Communicate. Having honest conversations with advisers and loved ones is critical:
»Explain your finances, family, care, disease, and so forth to your advisers — tell all so they can help properly.
»Discuss with family, friends, or others involved in your life what help you might need and what roles they might serve (e.g., health care agent, trustee of an insurance trust, etc.).
Step 12: Review and Revise Your Planning.
Planning Checklist:
»Nothing remains static
»Tax and property laws
»Family situations
»Assets and net worth
»Health changes
»New medications
Read this Forbes article for additional information: Sarcoidosis: Estate And Related Planning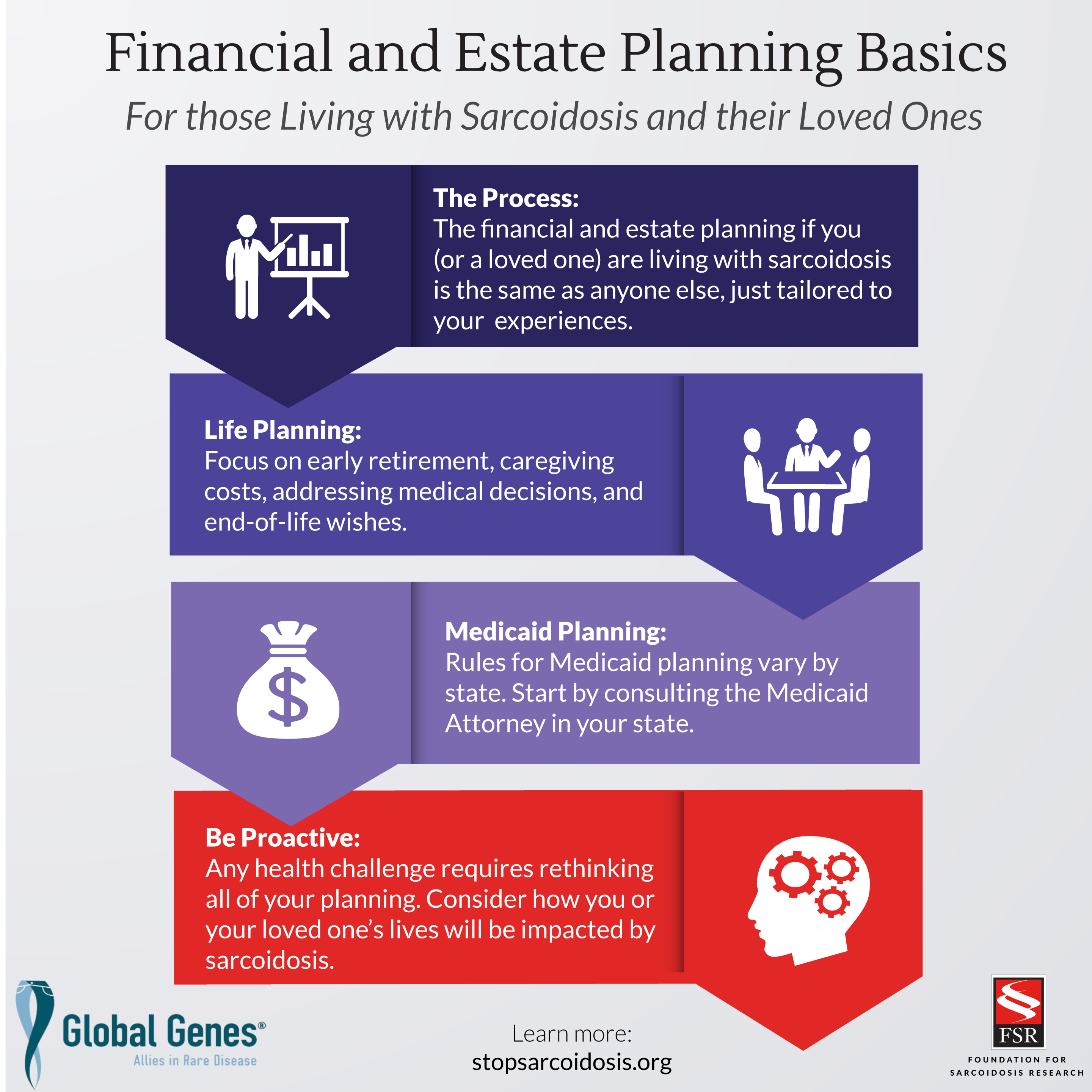 Patient Assistance Programs
Many pharma companies have access programs that help patients who can't afford their prescribed treatments. There are also third party programs to help with prescriptions as well. While qualifying for some of these programs might not always be easy, they can be a huge help to patients who need it. We pulled together a list of Patient Assistance Programs that provide financial assistance for drugs included on FSR's SAB-approved list of treatment options for sarcoidosis: