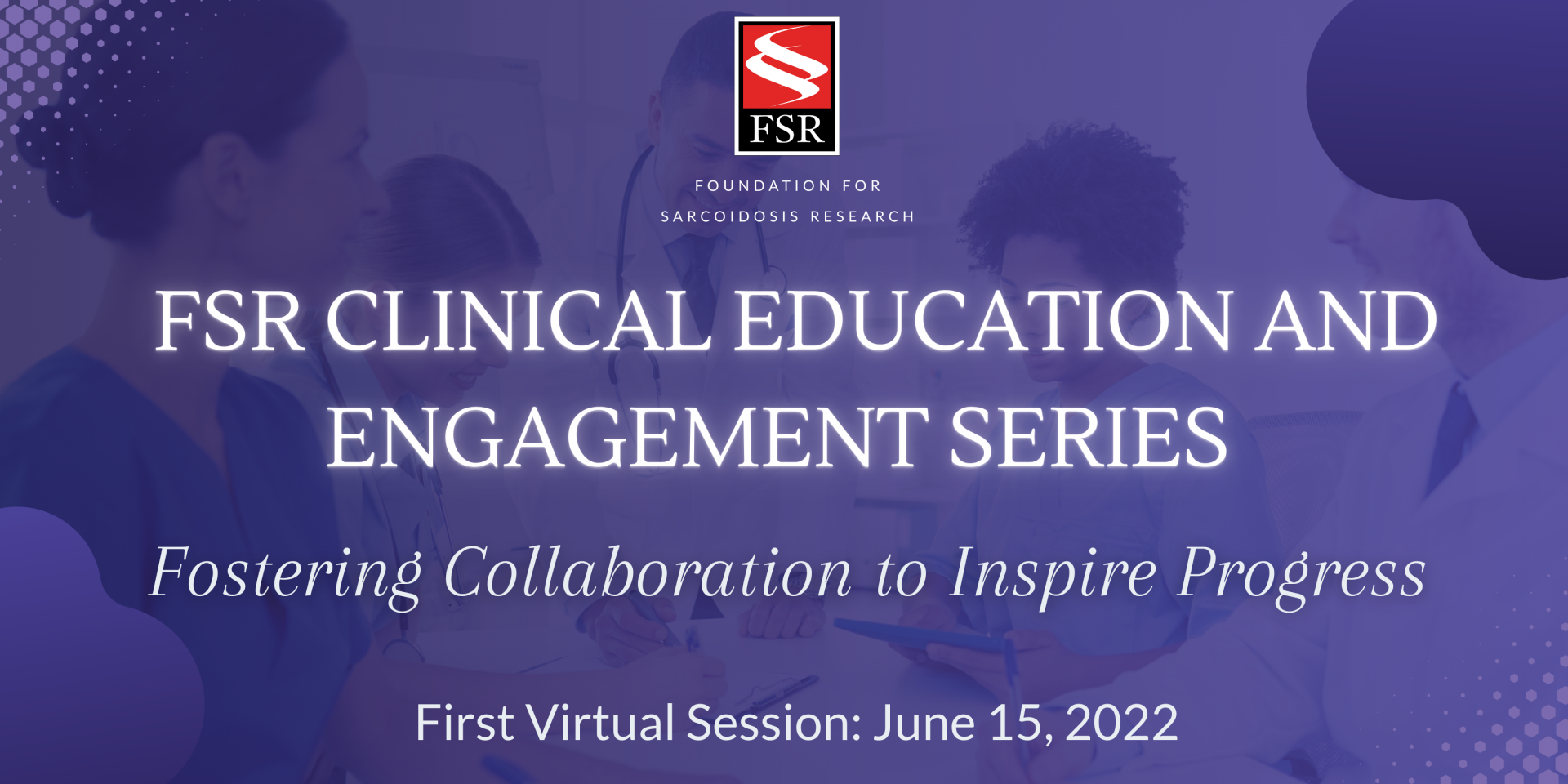 Building on the success of and feedback from the 2021 Clinical Engagement Conference, FSR is proud to announce a series of interactive and educational forums by our clinicians, with our clinicians and for our clinicians.  
During these live, interactive, educational forums, you will have the opportunity to engage with world-renowned medical experts and other clinicians as you hear updates about research on current sarcoidosis topics, you told us were of interest. 
FSR Clinical Education and Engagement Series:
 COVID and Sarcoidosis 
June 15, 2022, 6:00-9:00pm ET  - Virtual
The first topic in the series is COVID and Sarcoidosis.
Join us virtually for this session to hear from the NIH on critical CEAL (Community Engagement Alliance for COVID-19) findings for connecting and engaging with communities. You will also hear from expert sarcoidosis researchers and have the opportunity to engage with all speakers to share your own expertise and ask questions. 
Who should attend this series:
Physicians, researchers, physician assistants, nurse practitioners, and clinical professionals active in the sarcoidosis medical community.  
Be the first to hear about advances in research and approach to care of patients living with sarcoidosis and COVID.
George A. Mensah, MD, FACC
Director of The Center for Translation Research and Implementation Science (CTRIS) at the National Heart, Lung, and Blood Institute (NHLBI), part of the National Institutes of Health (NIH).
Dr. Mensah leads an integrative effort to advance the translation of scientific discoveries in heart, lung, and blood diseases research to clinical and public health practice nationally and globally. In addition to his years of service in public health at the Department of Veterans Affairs and the Centers for Disease Control and Prevention, Dr. Mensah is an expert in disparities and public health. 
Dr. Mehdi Mirsaeidi, MD, M.P.H.
Professor & Chief, Division of Pulmonary, Critical Care and Sleep Medicine at University of Florida Jacksonville
Owais Nadeem, MD
Pulmonary & Critical Care Physicians at Henry Ford Health
Patrick B Bradley, MD
Pulmonary & Critical Care Physicians at Henry Ford Health
Edward Chen, MD
Assistant Professor, Division of Pulmonary and Critical Care Medicine, at Johns Hopkins University School of Medicine, FSR Scientific Board Member
Elliott Crouser, MD
Professor of Medicine, Division of Pulmonary and Critical Care Medicine at The Ohio State University and FSR's Scientific Advisory Board Chair
Mary McGowan, CEO
Foundation for Sarcoidosis Research