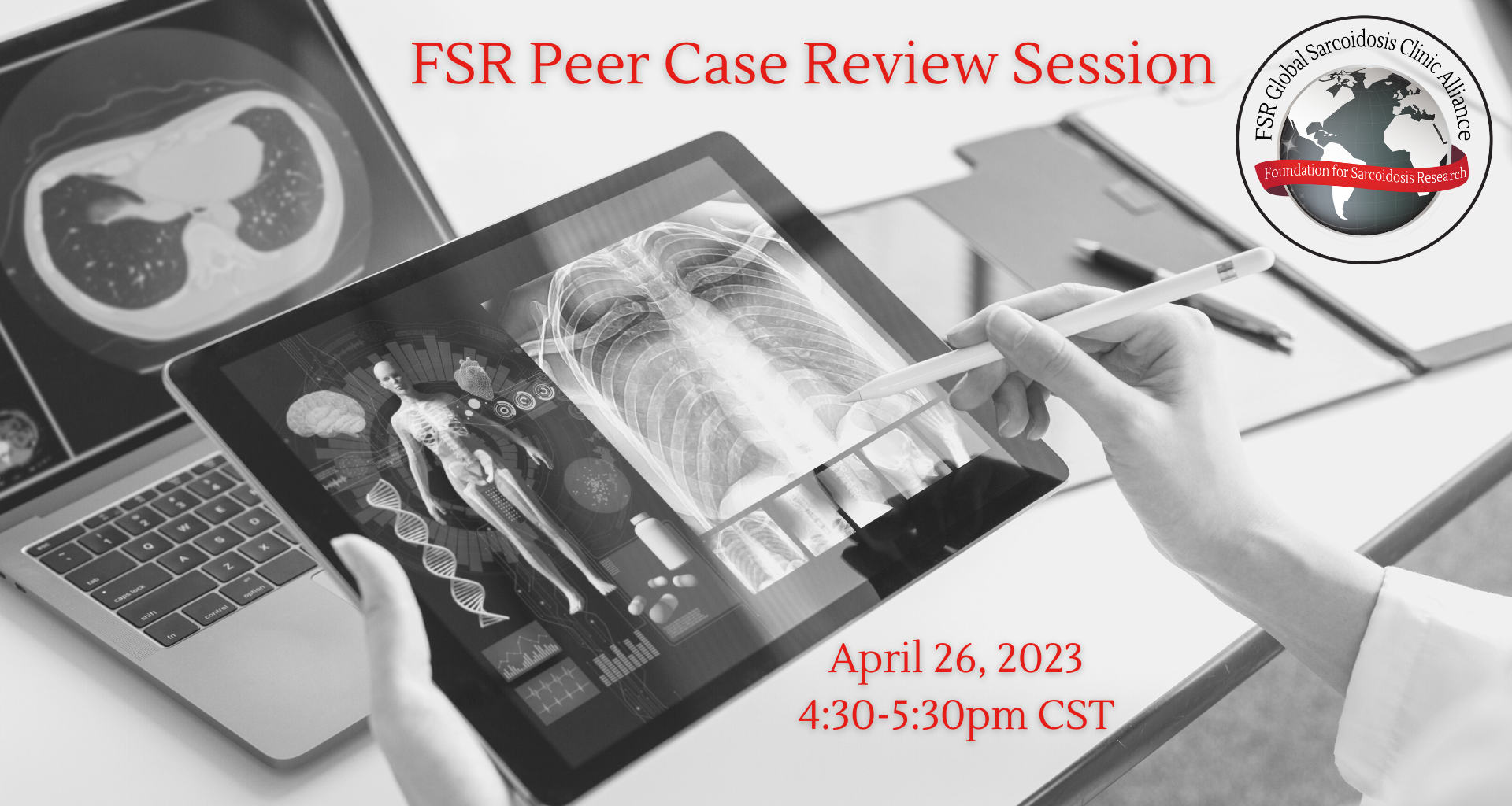 April 26, 4:30-5:30pm CST Virtual  
This programming is exclusively for FSR Global Sarcoidosis Clinic Alliance members. 
Because of the complexity of this rare disease, our stakeholders identified the importance of and need for peer case review opportunities on a national and global scale. We are launching the series with 60-minute sessions which will spotlight 2 cases.       
FSR Peer Case Review sessions are an academic endeavor to broaden awareness, strengthen community, and enhance doctors understanding and awareness of sarcoid dilemmas.* 
Here's how it works: 
Physicians submit the case (qualifying cases include sarcoid diagnosis, diagnosis dilemma or management of sarcoid, any manifestation) on the sarcoidosis case submission form by March 6.
The FSR-GSCA Peer Case Leadership Committee will review all submissions and identify 2 cases to be presented in the session.  

Selected cases will be notified Monday, March 20, and receive a template for their 5–6 minute presentation.  
Slides are due to FSR by March 31.

We are launching the series with 60-minute sessions, 2 cases will be presented, with a 20-minute discussion to follow to address the questions posed by the presenter. Attendees will be able to submit questions and comments.

Case presenters are encouraged to invite peers from their institution to contribute to the discussion, including radiologists, pathology, cardiac imaging, etc.   
The session will be recorded and available to all FSR-GSCA member clinics. 
*This session is an academic exercise for discussion purposes only. No advice is intended. By attending this session, you agree to absolve FSR and any participating individuals or institutions from liability associated with recommendations, guidance, or feedback. The information on this presentation is for general informational purposes only and does not constitute official medical advice or recommendation. Any use of information gathered from this session is at your will.