FSR believes in the power of volunteers. Through our Advocacy Program, we provide an opportunity for people to join us in a way that fits their lives and availability. Applicants will be able to choose from four advocate roles. You may apply for and, if accepted, hold more than one role. Quick descriptions of the roles can be found below, with more in-depth information on commitment, responsibilities, and training available on the application portal. FAQs can also be found below!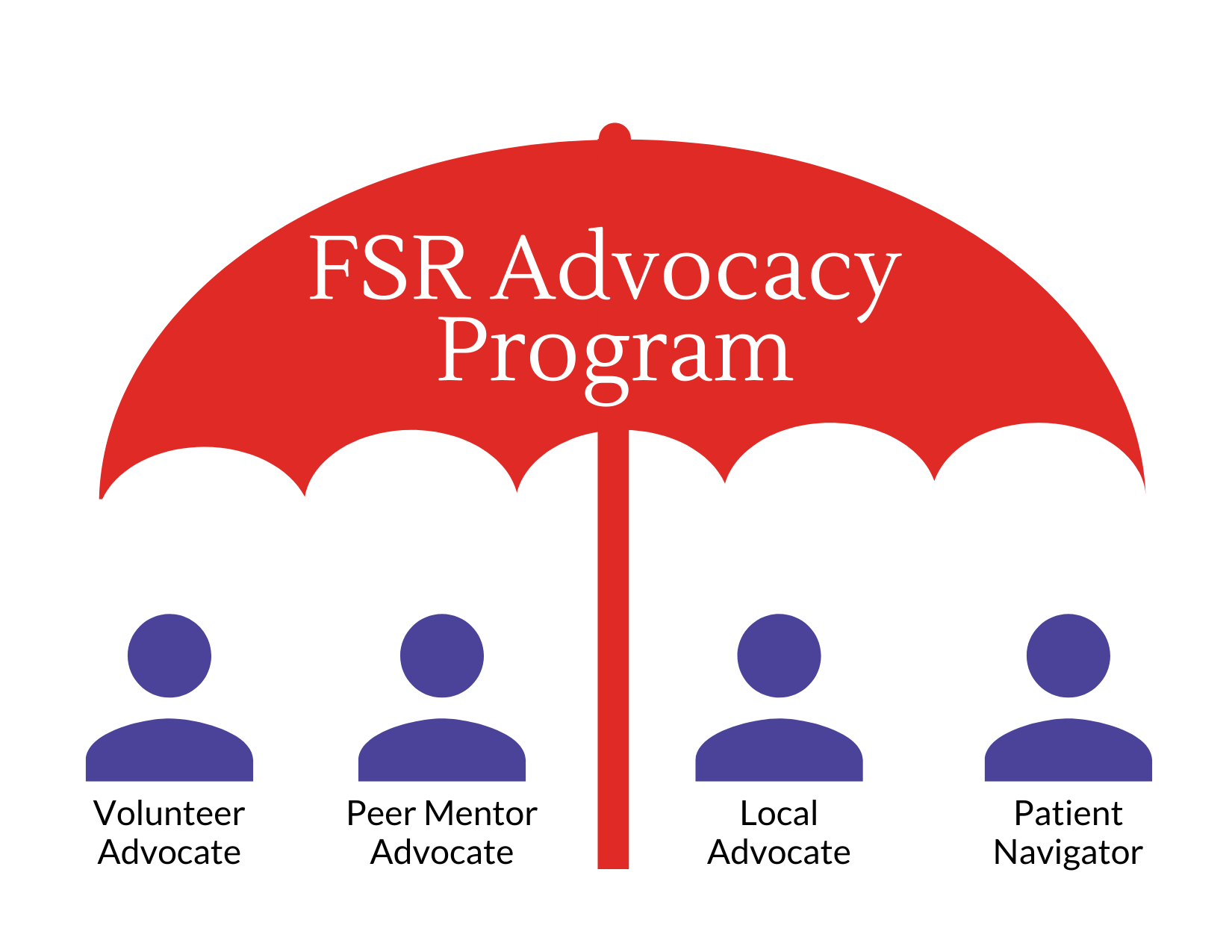 Volunteer Advocate
Time Commitment: varies by project
Applications for this role are open year-round. Accepted applications are good for one-year.
This is one of the most versatile roles in terms of time-commitment. By either joining short-term projects or special initiatives or focusing on one long-term goal with us, volunteer advocates engage in the mission area which most interests them, based on the amount of time they have.
You might be a good fit for this role if:
You're not sure where you want to start volunteering with FSR
You're short on time, but still want to make an impact
You're interested in working on a specific project or initiative
Your time is more suited to working ad-hoc on short-term project(s) or initiative(s)
Local Advocate
Time Commitment: 1-5 hours/week
Local Advocates are volunteers who drive FSR initiatives, empower their communities, and in some cases, affect change on a national scale. Local Advocates will work closely with their key-groups (fellow Local Advocates working in the same mission area) and a Peer Mentor Advocate to empower patients, facilitate grassroots outreach, and advocate for people with sarcoidosis and their caretakers.
You might be a good fit for this role if:
You are or have volunteered as a Patient Ambassador and would like to continue at the same level of engagement
You've volunteered with FSR on short-term projects and are ready to take on a more involved role
You haven't volunteered in the past, but are interested in helping FSR fulfill our mission and have time to drive multiple projects in your community and/or nationally
Peer Mentor Advocate
Applications will open for this position again in January 2022.
Time Commitment: 5-10 hours/week
Peer Mentor Advocates have gained expertise through education, employment and/or years in sarcoidosis advocacy and are ready to support fellow advocates in FSR mission delivery. In addition to leading their own local initiatives, Peer Mentor Advocates support Key Groups (2-10 Local Advocates) who have the same focus. *Hours listed include your local activities.
Peer Mentors must be able to commit time to both lead their local initiatives and support Local Advocates in their efforts.
You might be a good fit for this role if:
You have volunteered as a Patient Ambassador and you're ready to lead and support your fellow advocates.

Example: You have successfully facilitated your sarcoidosis/rare disease support group for at least one year, and you believe you are ready to support a Key Group of local leaders either doing the same, or who have interest in doing the same.

You have expertise in a specific mission area.

Example: You have expertise in provider education and you are interested in supporting local leaders in their efforts to engage and educate providers about sarcoidosis.
Patient Navigator
Applications will open for this position again in January 2022.
Time Commitment: 5-10 hours/week
Patient Navigators are an entirely new role within the FSR Advocacy Program. Patient Navigators are matched with new patients/caregivers who have applied to the Patient Navigation program via FSR's website in search of guidance and support.
Some of the biggest hurdles patients with sarcoidosis and their caregivers face are lack of credible information and feelings of isolation. The purpose of the FSR Patient Navigation Program is to bridge that gap through one-on-one support with patients and caregivers who get it because they've been there. Patient Navigators will use their knowledge of resources and ability to assist patients and/or caregivers in their sarcoidosis journey for up to 45 days.
You might be a good fit for this role if:
You are a sarcoidosis warrior or are/have been a direct caregiver for someone with sarcoidosis, and have the time and passion to invest in one-on-one support
You're comfortable talking about your or your loved one's disease and the effects it has had, and you are prepared to provide advice on how to manage the challenges it brings.
You are already, or have a desire to become, an expert in sarcoidosis and chronic disease support and services on a national scale
You are able to commit to taking 1-2 patients/caregivers every 45-days
You have a record of excellence in providing one-on-one support to patients and caregivers
Frequently Asked Questions
Do I have to be a patient to qualify as an FSR Advocate?
*No. Anyone who has been affected by this disease, directly or otherwise, who is committed to working collaboratively with FSR leadership and fellow advocates to achieve our mission is encouraged to apply.
*The Patient (caregiver) Navigator role is open to sarcoidosis warriors and those who are/have been a caregiver for someone with sarcoidosis.
Is this a paid position?
This is an unpaid, volunteer service role. While we would love to be able to provide stipends in the future, our budget does not currently allow for reimbursement for your time. That being said, we do routinely offer grants to offset expenses incurred by volunteers who are planning events benefitting FSR, provide travel stipends to attend trainings, and send materials to volunteers so they may fulfill their FSR goals.
 When my term ends, can I reapply?
Yes. Advocates who wish to continue in their 2020-21 role may apply through a condensed returning applicant form. Advocates who held one role during 2020-21 who wish to apply for a different role for the following term (example: Volunteer Advocates who wish to apply for Local Advocate role) should apply via the general application during the next year's cycle.
If I encounter a personal challenge during my term, what can I do?
We understand that flare ups can come at any time and that personal challenges will arise! As people with sarcoidosis know too well, living with a chronic condition can be unpredictable and challenging. Self-care will always come first for the program. If you are experiencing a hardship, please simply be in communication with an FSR staff member, or your Peer Mentor Advocate. Beyond helping us understand why you may need to step away, we want to be there for you and your family if you are going through a difficult time. Provided you communicate with us to the best of your ability and help when you feel you are well enough to do so, such events will not prevent your participation in the program now or in the future.
Is the FSR Advocacy Program open to international applicants?
Yes! While our training will focus on U.S. support and resources, FSR will consider applicants from across the globe.
Who do I contact with questions?
Mindy Buchanan, FSR Director of Patient Programs, oversees FSR's Advocacy Programming. Questions regarding the program and/or application can be directed to mindy@stopsarcoidosis.org or 312-341-0500 ext. 110.