This page is being monitored and updated regularly. Please check back for additional updates.
As information on the novel coronavirus disease, COVID-19, dominates our daily lives, individuals with sarcoidosis and their loved ones are bound to have questions about the potential health risks of COVID-19 as they pertain to sarcoidosis patients and others who may have compromised immune systems. FSR is diligently following the progress of this pandemic and actively seeking out the best information for our community. FSR encourages following the recommendations of your healthcare team regarding your personal health and well-being. We also encourage our community to stay diligent about following updates from the CDC and state/local health departments, as they will have the most up to date information for your geographical region.
What is COVID-19?
COVID-19 is the novel coronavirus disease that is currently causing a global health crisis. It is a respiratory infection that was newly discovered in humans and appears to be easily transmissible. Individuals with pulmonary or cardiac sarcoidosis – and those on immunosuppressant medications due to sarcoidosis – may have an increased risk of developing more severe complications of COVID-19 if they contract the illness.
Currently, the CDC recommends the following to prevent the spread of COVID-19:
Avoid close contact with people who are sick.
Avoid touching your eyes, nose, and mouth.
Stay home when you are sick.
Cover your cough or sneeze with a tissue, then throw the tissue in the trash.
Clean and disinfect frequently touched objects and surfaces using a regular household cleaning spray or wipe.
CDC does not recommend that people who are well wear a face mask for protection. Face masks should be used by people who show symptoms of COVID-19 to help prevent the spread of the disease. The use of face masks is crucial for health workers and people who are taking care of someone in close settings.
Wash your hands often with soap and water for at least 20 seconds, especially after going to the bathroom; before eating; and after blowing your nose, coughing, or sneezing. If soap and water are not readily available, use an alcohol-based hand sanitizer with at least 60-95% alcohol.
Latest updates from trusted resources:
Research on COVID-19 for our Community
Help researchers who are trying to better understand the potential impact of this disease on the rare disease and sarcoidosis communities by participating in the following survey opportunities:
Dr. Marc Judson of Albany Medical Center discusses the results of the COVID-19 and sarcoidosis survey
FSR Resources – Sarcoidosis and COVID-19
Watch the video below for FAQs about sarcoidosis and COVID-19, answered by Dr. Peter Sporn of Northwestern (March 20, 2020)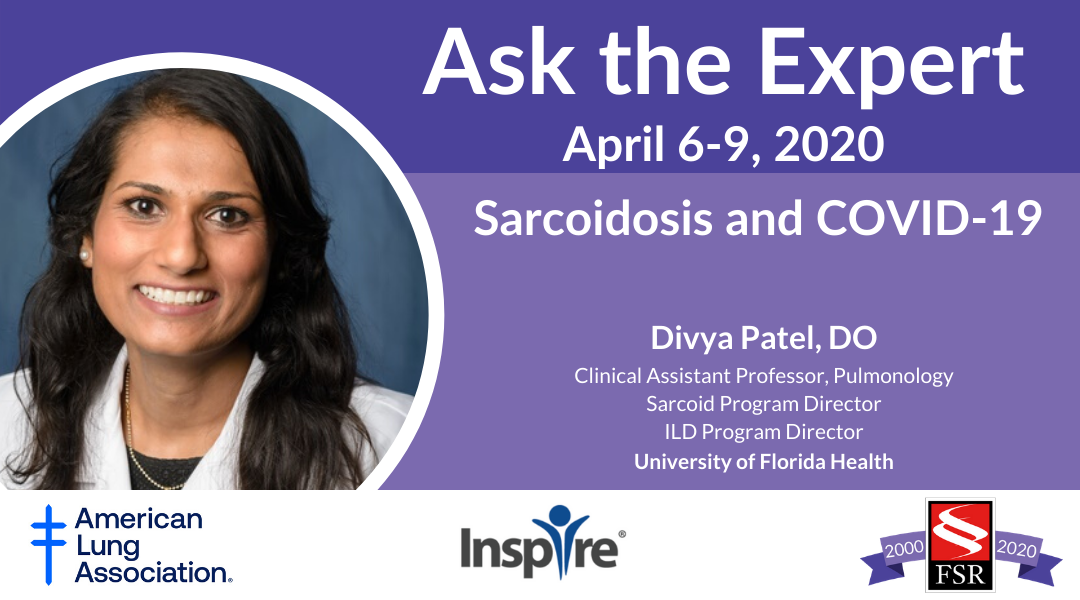 FSR hosted an online Q&A forum with sarcoidosis expert Dr. Divya Patel, who answered patient-submitted questions about sarcoidosis and COVID-19. See Dr. Patel's responses here.