Date/Time
Date(s) - 09/14/2019
10:00 am - 4:00 pm
Location
The Inn at Longwood Medical
Categories
Please join the Foundation for Sarcoidosis Research and internationally recognized physicians in Boston to gain valuable insight into sarcoidosis.
Patients and loved ones will have the opportunity to learn about FSR's research initiatives, sarcoidosis treatment options, and clinical care with experts in the field in Boston.
Time, Date, Location
Saturday, September 14, 2019
10:00 am – 4:00 pm
The Inn at Longwood Medical Center
342 Longwood Ave.
Boston, MA 02115
Please refer to email updates and registration page for ongoing updates or email kelli@stopsarcoidosis.org.
Parking
The map below depicts parking garages near the venue. While we strongly recommend parking in the garage attached to the venue at 350 Longwood Avenue, parking is available on a first come, first served basis. Please plan accordingly. Additional parking is available in two nearby garages at 375 Longwood Avenue and 333 Longwood Avenue.
Unfortunately, parking costs are not included with conference registration. We recommend carpooling with other friends and family members who will attend the conference. Parking with validation at the venue will cost $8. We cannot guarantee rates at neighboring parking garages and appreciate you understanding.
Finally, you know yourself best. Please plan to arrive early enough before the event starts to drop off friends or family members who may have mobility restrictions, park, and comfortably find your way to the venue.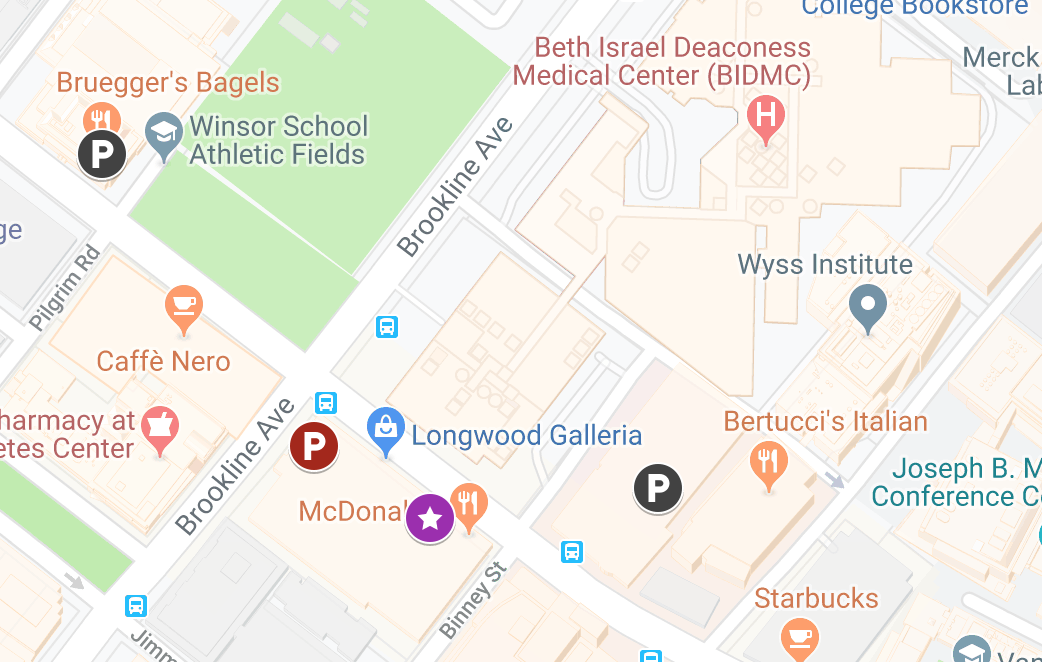 Agenda
10:00 AM
Welcome & Introductions
FSR Staff
10:05 AM
Introduction to FSR
Kelli Beyer, FSR Director of Education and Outreach
10:20 AM
Living with Sarcoidosis: A Patient's Perspective
Paul Paradis, FSR Patient Ambassador
10:30 AM
Diagnosis and Monitoring: What You Need to Know
Praveen Govender, MD – Boston Medical Center
10:50 AM
Cardiac Sarcoidosis
Neal Lakdawala, MD – Brigham and Women's Hospital
11:10 AM
Using the Bad to Fuel the Fire of Good
Jim Davis – FSR Board of Directors
11:25 AM
BREAK
11:40 AM
Panel Q&A
AM Presenters – Govender, Lakdawala
12:10 PM
FSR Resources and Support
Kelli Beyer, FSR
12:30 PM
LUNCH
1:00 PM
Skin Sarcoidosis
Sotonye Imadojemu, MD – Brigham and Women's Hospital
1:20 AM
Aches, Fatigue, and Quality of Life
Jeffrey Sparks, MD – Brigham and Women's Hospital
1:40 PM
Treatment Options
Jeffrey Berman, MD – Boston Medical Center
2:00 PM
Panel Q&A
Afternoon Presenters – Imadojemu, Sparks, Berman
2:45
Moving Research Forward
FSR Staff
3:10 PM
Audience Networking
3:45 PM
Closing
In addition to world-renowned physician speakers, this conference will feature opportunities to get involved in research, interact with other patients and loved ones, and learn about resources and supports offered by the Foundation for Sarcoidosis Research and our partners. Please register today to save your seat!
Register
Please note that one conference registration is required for each attendee. Please complete the form below and refresh the page to register additional people.
Help Spread the Word
Share this flyer with your friends, family members, fellow sarcoidosis warriors, and doctors. Sponsorship, volunteer, and speaking opportunities are available. Please contact kelli@stopsarcoidosis.org to learn more.