During the month of August, while congress members were back in their local districts, Rare Disease Legislative Advocates organized their annual "In-District Lobby Days," helping rare disease patients connect with their local representatives to meet and discuss policy issues that face the rare disease community. FSR Patient Ambassador Sheron Williams of Michigan had numerous meetings scheduled throughout the month with the offices of her senators and local representatives. Read on to hear about her advocacy!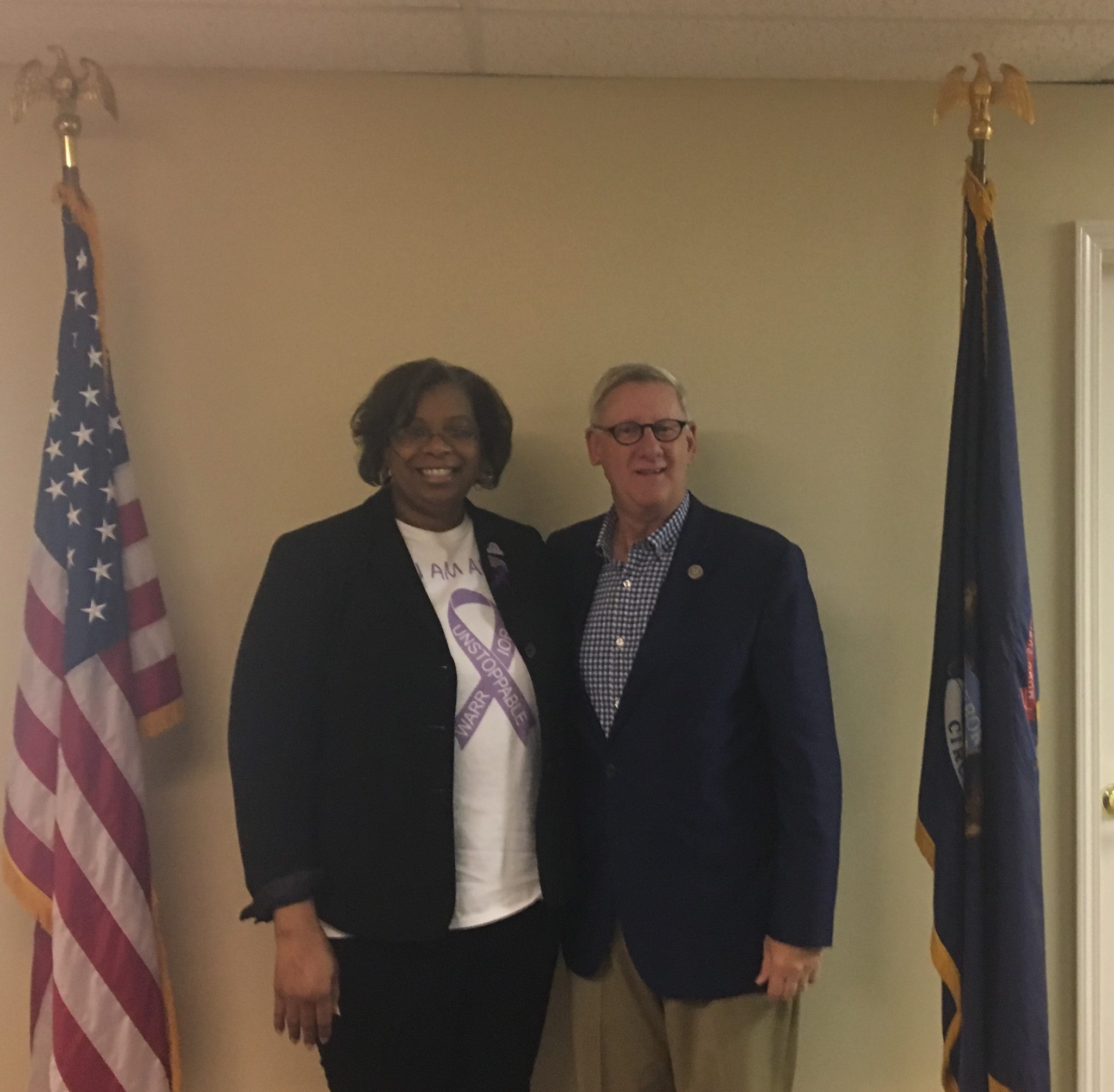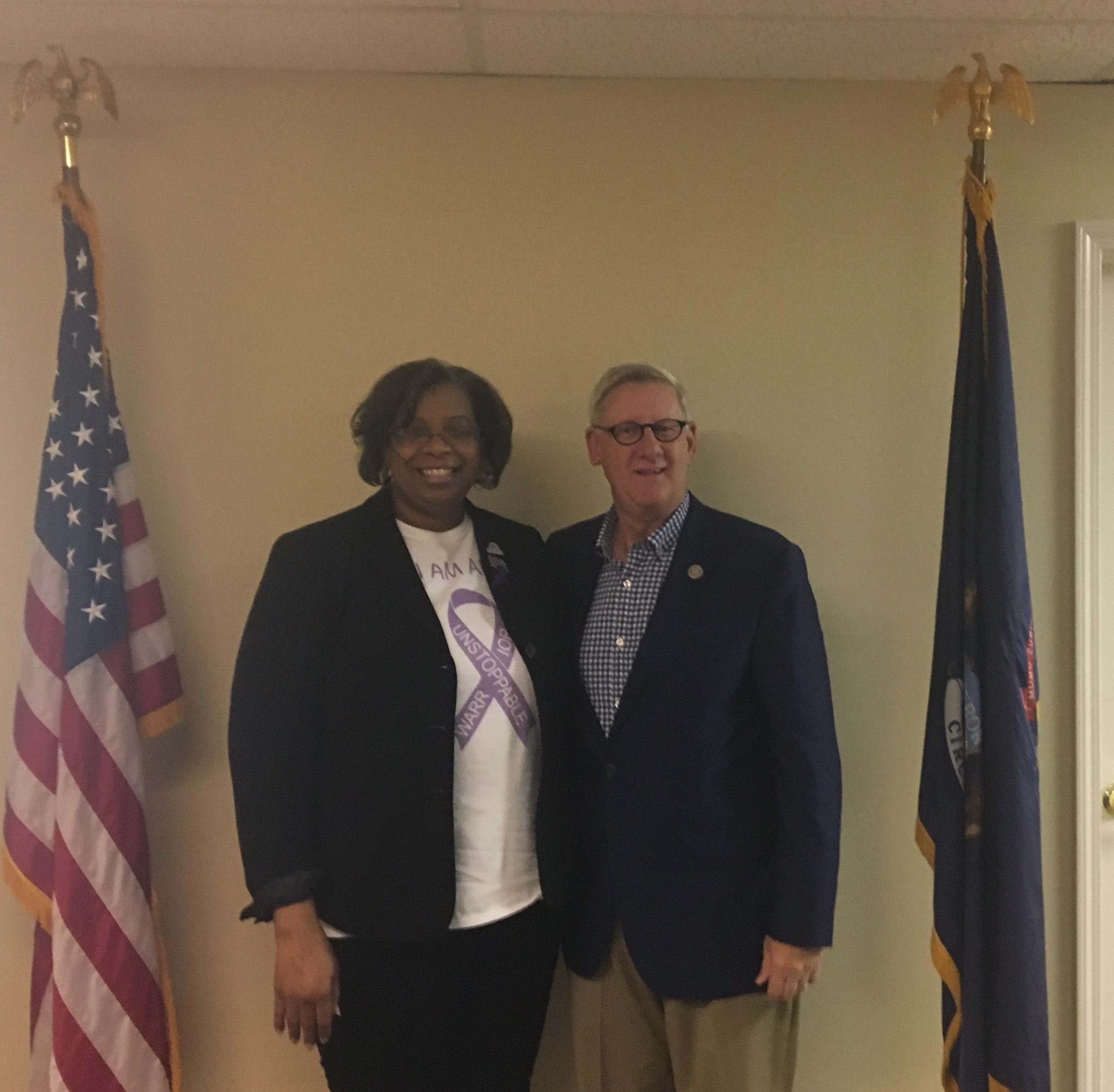 FSR: How did you prepare for your meetings with your legislators? Did you bring them educational materials?
SW: I did a google search of each legislator before my meetings and I pulled 5 things from each bio to focus on and remember. I choose things that were similar to what I was going to speak to them about. I also read about their personal interests so I could relate to them on a personal level rather than just politically. I wanted them to feel I appreciated them as a person and not just a legislator. I put together a folder with educational information about sarcoidosis and the Rare Disease Community, along with my FSR ambassador business card. I had 2 folders for each meeting, in case there was a health aide or another staff member attending the meeting as well.
How did you set up the meetings? Were there any challenges you faced? 
In June I saw RDLA was preparing for In-District Lobby Days and was asking those interested to sign up and to say how far you would be willing to travel. I signed up and said I would be willing to travel as far as 3 hours by car to meet with legislators here in Michigan. In July, RDLA hosted a webinar to help volunteers prepare for Lobby Days so we knew what to expect.
What was a challenge was actually getting through security in some of the buildings. Although RDLA made the appointments, I made sure to double check the security procedures when going to see legislators so I wouldn't be late. I also learned it's important to give your self time between meetings. RDLA was awesome getting me the door with my local reps. If you're making the appointments yourself or you're working with an organization…always give yourself time between appointments. The last thing you want to do is be late,  I made sure I was always 30 minutes ahead of my appointment time.
What format did the meetings take? After you had a chance to give a little background on sarcoidosis, what "asks" did you have for your representatives when it came to supporting rare-disease legislation and proclamations?
If you're working with an organization like I was with RDLA… RDLA provided a list with legislator name, time, place and all attendees. I had four meetings total; in two of those meetings, there were representatives from other rare disease organizations who were also attending. So we communicated via email and went over who would go first and discuss what. Doing this made us more unified in the meeting, each one of us had a role and wasn't repeating what the other one just said… that way, we were a unified front representing the rare disease community In my other meetings, I was solo and really took my time going through material on sarcoidosis. I made sure that I asked them what their stance was on the rare disease community. I went over their RDLA scorecard and their plans on improving it. I ask if they had ever hard of sarcoidosis and I let them ask me questions about my own personal story with the disease.
What surprised you about the meetings? Did they meet your expectations?
I was surprised when one of the legislator's managers mention her mother has sarcoid too! "Wow" I thought… Yes, my expectations were met for the meetings, but time will tell if my representatives exceed those expectations and actually act upon the information I gave them on behalf of the rare disease community!
What did you learn that you'll be changing for your next meeting? What will you do the same?
Considering this was my first time doing lobby days, I'm not sure what I would change at this time, I would simply be sure that I set a follow-up appointment at the end of each of my meetings. And I would say I would still be sure to arrive earlier than my appointment time.
Why is it important to you to make the trip to visit your local representatives?
Making the trip to see your legislators puts a face with your cause… If they can see who this disease is affecting, I think that gives them more reasons to consider what your asking of them.
Anything else you'd like to add?
In these meetings, I learned that my voice does matter and the more I make it heard, the more awareness I'm bringing to sarcoidosis!
We thank Sheron for her efforts on behalf of FSR, RDLA, and the entire rare disease community!