Participate in Stopping Sarcoidosis One Snowflake at a Time
For every donation you receive in your honor or make in honor of someone else, we invite you to create a cut-out snowflake and write your donor's name or your tribute's name on the snowflake and collect your snowflakes in your favorite area of your home to show the makings of a blizzard!  

Help support FSR's work in raising the funds needed to expand our efforts in advancing improved sarcoidosis clinical care and diagnosis and support the development of new treatments.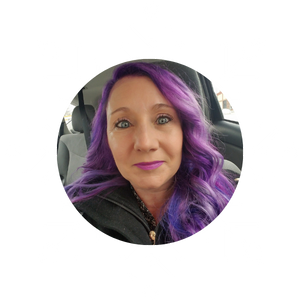 Cathleen Terrano
Sarcoidosis is rampant throughout my body, and over the past two years, it started hitting me neurologically.  Having a doctor for every part of my body is exhausting.  Navigating the healthcare system is very difficult, but I do believe the FSR has a great tool, called the physician directory.  I not only go there myself but lead others to it as well. Thankfully, I have finally built a good team of doctors.   
As I got to know other wiser sarcoidosis brothers and sisters, they have become my sarcoidosis family.  They helped me understand that your doctor needs to be there with you (within reason) and if that doctor is not listening or helping, to seek out a new doctor in that specialty.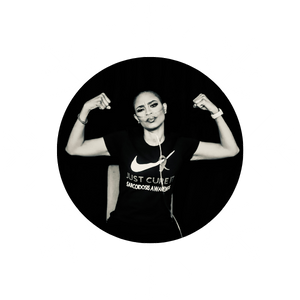 Chasta Posey
As a freshman in college, being diagnosed with sarcoidosis was a challenge. Not knowing how I would be affected caused me to have severe anxiety. Testing my kidneys and discovering sarcoidosis was extremely uncommon. I instantly became a science project for several doctors. That is where I learned that I would need to become my own advocate and find my own team of healthcare providers to help get me to the point I am now.
(Almost) 18 years ago, I was in an online chat room, with individuals who had rare illnesses. There was a lady there who also had sarcoidosis and she encouraged me to speak up about this illness. I am so glad I did. I have met so many individuals who have some amazing and life changing/inspirational stories. From social media, to meeting in the grocery store, we all are unique in every way. Who knew, wearing a purple shirt, with the word sarcoidosis, would produce lifelong friendships and connections?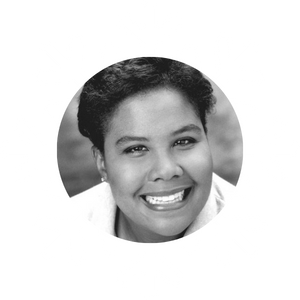 Della Washington
My name is Della and I was diagnosed with neurosarcoidosis in 1999. When I went blind in my left eye (known as ocular uveitis) the doctors had confused the diagnosis with multiple sclerosis because it was affecting my eyesight. Within weeks of being diagnosed, I lost the use of my left side limbs because sarcoidosis had spread throughout my brain. The doctors gave me four months to live, but I told them they had four months to figure out how to treat my diagnosis. I have been in and out of remission ever since, with new symptoms coming and going during this time.  
In 1999, there was no advocacy work or groups you could join for support for sarcoidosis, I searched the Internet for year to find some information that would help me learn about sarcoidosis. I finally found FSR in early 2000 and have been relying on them for information and support. I am grateful to have support from friends, family, and a great assortment of medical professionals to help me navigate my disease.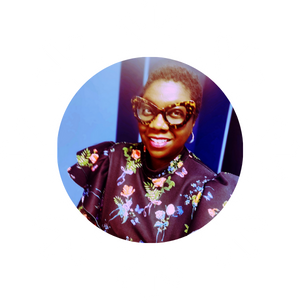 Erica Courtenay-Mann
A decade ago, I was sick. I went to the doctor and told her, "I'm tired. I feel really, really tired." She looked at my neck and said, "Your neck is not supposed to be that big." They looked down my throat and saw two large growths. I agreed to see a specialist and have them removed. By the time I was on the table, those two growths had turned into six growths. Little did I know they were granulomas. Here I was a working Black mother with a sweet little toddler that woke up from a laryngoscopy with one less vocal cord and the diagnosis of sarcoidosis. That was the beginning of my "Tour De Sarcoidosis". My Laryngeal Sarcoidosis spreads to my lungs. And in some twist of fate, I was in remission for 5 years. In 2017, I came out of remission, and they found Oral Sarcoidosis when I visited the dentist. Here in the year 2022, I have Laryngeal, Pulmonary, and Oral Sarcoidosis.  
Becoming an advocate has allowed me to use my story and my humanity to help others. I want all Sarcoidosis patients to have a good quality of life and good care. I believe that those in the Sarcoidosis community and those who support Sarcoidosis patients can have a good quality of life even as they manage the ups and downs of this ever-shifting disease. We just cannot live those ups and downs in silence. We have to share our stories so that others know they are not alone, and they have a community of support.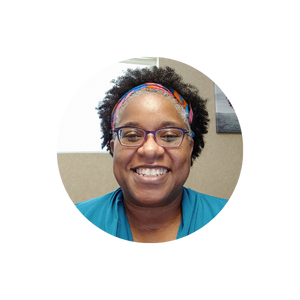 Garrie Farrow
I only went to a doctor because I couldn't wear my cute shoes. My doctor said I was too young for swollen feet and ankles. It took about 4 years (in total) and a lot of flats before a doctor sent me for a chest x-ray. After a lymph node biopsy, I was diagnosed with pulmonary sarcoidosis. I'd thought my experience with sarcoidosis would be inconsequential – I had Stage 1; no medications needed. So, I found some scarves to hide my new biopsy scar (at the base of my throat) and went on with life. I forgot that I had sarcoidosis. My snowflake has become more complex than just a small melty piece of snow. I now have sarcoidosis in my lymph nodes, skin, sinuses, eyes, bones (yes, bones), and possibly the brain. 
Reading articles online and speaking to my specialists left me feeling isolated. The different diagnostic tests, trying new medications increased my isolation. Before becoming involved with FSR and the Sarcoidosis Community at large, I thought I was alone in this journey. Finding FSR opened my eyes to so many things: the research opportunities, patient support, and advocate work to name a few. Because of FSR, I have attended two Virtual Patient Conferences! I have been able to speak to other sarcoidosis patients who know the uncertainty of this disease. That we are forging a new path into this snowy landscape with new research and clinical trials. It might be cold outside, but I'm not alone. I've got a community that I can depend on for more information and support while dealing with my sarcoidosis snowflake.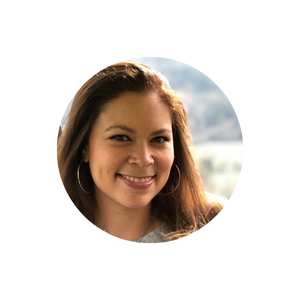 Jenise Bermudez
My sarcoidosis story is unique because, as in most cases, the process of elimination is needed in order to get to a sarcoid diagnosis. During this time I did not have health insurance (I was in between jobs so would have health insurance soon). It all started with stopping and starting different antibiotics to treat a bacterial infection which then turned into temporary, then consistent headaches. When the bacterial infection had passed, a headache began that grew progressively worse over time. I believe it took months to the point of unbearable pain that I could not help but moan and cry out loud about, for the doctors to run a multitude of tests. At its worst, I also could not stand to be around any light whatsoever, and recall being moved in and out of hospital rooms in a wheelchair with a blanket over my head to cover my eyes from the lights in the hospital. The rest is a blur because I almost died when they tried to convert me from intravenous steroids to steroids in pill form. They discovered granulomas on my saliva glands. This discovery coupled with negative/normal blood, MS and cancer test results, was how I got my ocular and glandular sarcoidosis diagnosis.
Since 2010 I have found community through FSR, their events, and by meeting others living with the disease. It is what inspired me to become a patient advocate and share my story to encourage others to get involved. Sarcoidosis is a rare disease so not that many people know about it, including doctors. I have found so much joy and support from meeting people that have had similar experiences relating to dealing with the effects of sarcoid and prednisone as well. Knowing about the resources through FSR has helped me support others living with sarcoidosis and I couldn't be more grateful for that. Most importantly, finding community has helped me understand that there is life after sarcoid. Don't give up hope ever!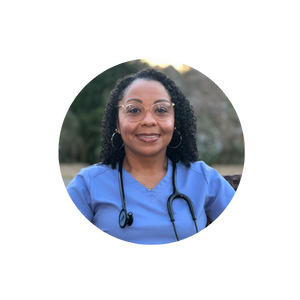 Jessica Reid
Picture a young, healthy, very active female sophomore college student presenting to the doctor's office with severe lower back pain. Keep in mind she played three sports every year in high school and she was also a ballerina. Even in college, she continued to be physically active, playing recreational basketball and running through campus in her spare time to relieve the typical "college stress." Therefore, a pulled back muscle coupled with a muscle relaxer prescription would seem feasible, right? Boy, was my primary care provider wrong! However, I knew it was much more serious when the low back pain progressed to numbness and tingling in both legs and the inability to empty my bladder or have a bowel movement. Unfortunately, it took almost 2.5 years and a failed back surgery before further testing was done to arrive at a sarcoidosis diagnosis.
From the beginning of my sarc journey, my family has been very supportive but it was difficult to find anyone who could relate to the overwhelming frustration I felt daily. I was overwhelmed physically, mentally, emotionally and spiritually! I felt trapped and on a lonely island. Launching a local support group allowed me to encourage and educate other sarcoidosis patients but I still needed more.  It was not until I joined forces with the Foundation for Sarcoidosis Research as a Patient Ambassador/Advocate that I truly found my tribe! I knew immediately during my first in-person training that I had found the missing piece! I have laughed and cried with some of my fellow Patient Advocates and despite the distance, we all find a way to keep in touch with one another. It is crucial!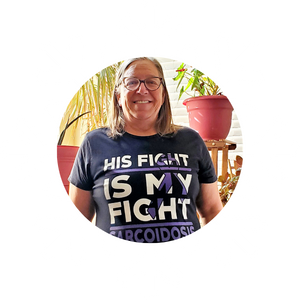 Jean Kuhn
My snowflake story is about being a caregiver to someone who has an advanced case of sarcoidosis. Little did we know about sarcoidosis and the effect it would have on my husband and our relationship. I almost lost him to this disease in 2018, but he fought hard and is still here by the grace of God. We are both stronger and fighting harder every day to find better medications to continue living a better life.
When we found FSR, it was a blessing, in knowing we were not alone in our battle with sarcoidosis. There were others that we could learn from who had been fighting longer than we have. They are all our new 'family' now and we cherish each and every one of them. FSR provides us a community in which we can come together and lean on one another and learn from one another, and just be together with folks who understand us.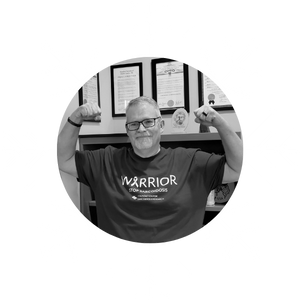 Jim Kuhn
I found out I had sarcoidosis almost by accident. In 2014, I was diagnosed with lymphoma. I was to start chemo, but the oncologist needed a biopsy to know the correct drugs to use. While we were navigating our way through the process for insurance approval for the biopsy, masses began to appear around my eyes, and then a lesion on my chin and another on my arm. I immediately went to see my eye doctor, who also affirmed the diagnosis of lymphoma and recommended immediate surgery to remove the masses to save my vision.  As it turned out, it was quicker to get an eye surgeon to remove one of the bigger masses on my eye, while still waiting for the chest biopsy. That mass was sent out for analysis, as is customary, and the results came back as sarcoidosis. Later biopsy and removal of skin nodules also confirmed sarcoidosis.
Living with sarcoidosis is hard. However, I have found I still find ways to have a life of significance and enjoy life despite the burden of sarcoidosis. One of the primary ways is through serving as a Patient Advocate with FSR. Being part of a community of people who know what living with sarcoidosis is like brings us all closer together and we can all share our experiences struggles. My advocacy, along with others like me, help foster that type of community.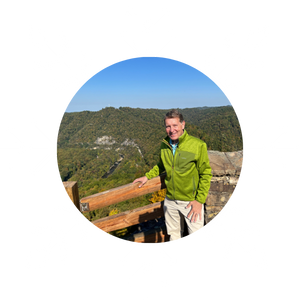 John Carlin
In 2015 I felt a sensation in my foot as if my socks were bunched up in my shoes.  Little did I know that sensation would grow to become tingling in my legs which had no explanation.  Doctors couldn't find it either.  After a misdiagnosis and a scare that I had a tumor on my spine, I learned, following a biopsy in 2016 that it was sarcoidosis. 
I had never heard of sarcoidosis at the time, but today I have learned a lot about the snowflake disease.  I've been through rounds of chemotherapy, prednisone, and several other drugs, and now travel 7 hours for treatment.  Once a marathon runner, I am no longer able to run due to reduced mobility from the lesion on my spine, but I make the best of things by hiking and riding my bike.  But, I also feel a need to give back to FSR, which is making so much progress in fighting the disease.  I serve on the Patient Advisory Committee and host the FSR Sarc Fighter podcast.  I believe we can one day find a cure and in the meantime, medicines with more effectiveness and fewer side effects than those currently available.  As I say on the podcast, "Keep fighting."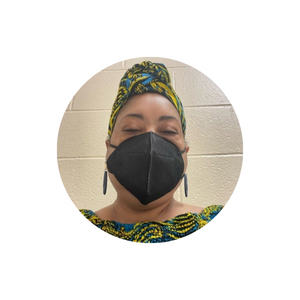 Jo Harper
It all began in high school in 1984 with a cough that wouldn't go away.  I was told it was asthma and bronchitis.  Then a collapsed lung while in college in 1986 and extreme weakness.  Again, I was told it was bronchitis and asthma. Despite my increase in the inability to breathe easily, I was still given cough syrup and told now that it was "allergies" and asthma and bronchitis. Then in 1992, I almost passed out at work. I was rushed to the hospital with extreme coughing spells accompanied by the feeling that an elephant was sitting on my chest. I was diagnosed by an ER doctor as having Sarcoidosis and 4 days later it was confirmed after the bronchoscopy of my lungs was performed.  Although I woke up in the middle of the procedure the pulmonologist finalized my diagnoses. I had no idea what it was or even how to pronounce it. 
Thirty years later I still battle with the effects of sarcoidosis in various organs of my body at any given time. In 1992 there was no FSR and I felt alone, scared and crazy because no one could tell me exactly what was wrong. Then in 2009, with the help of FSR, Hattie Crawford, the late Ray Cabiness, I was able to put our Sarcoidosis of NC support group together.  I honestly can't imagine life without FSR and my local support group. The community with the Sarcoidosis world is a staple in my life. The community is a new extended family who loves and supports me instead of judging me.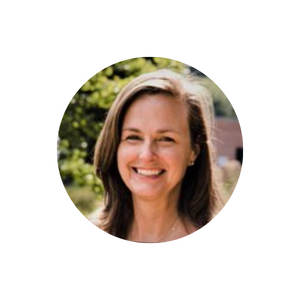 Leanne West
I was diagnosed with sarcoidosis in 2005 but didn't have symptoms until 2007. You might be wondering how that's possible - people go years without a diagnosis. Well, I had a lump behind my ear so asked my doctor about it. He thought it was a cyst, but when he went to drain it, it was solid. A biopsy showed sarcoidosis. Unfortunately for me, he told me it was no big deal and not to worry about it. Jump forward two years, and I have a cough that won't go away. The sarcoidosis had taken hold. I was sick for about five years before I was able to find the right daily medications to keep it mostly under control. I still have a couple of flares a year, but generally can live my life, albeit a little slower. 
When I was diagnosed, I had a hard time finding a community. I was so sick for so long that I really didn't even have the energy to look. I just wanted to feel better. I eventually found a Facebook group that has been quite helpful. I started realizing that I'm not so alone on this journey; others are on it too. We share symptoms, feelings, experiences, medications, and things to watch for and ask your doctor. I have also found FSR and the community they offer. Now I have friends who can completely relate to my experiences. I also have a resource to find information that I know I can trust.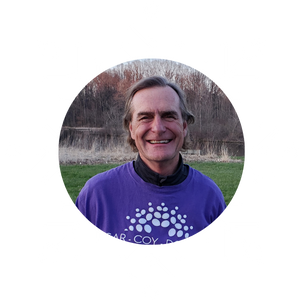 Mark Landiak
I never expected to get seriously ill. Most patients don't. My story began at the bottom of the Grand Canyon. After 3 days of backpacking, we began the climb out. Twenty minutes into the 8.5 mile trek upwards, my legs fatigued, my breaths shortened. my heart raced and I was drenched in sweat. 11 months, 1 pacemaker/defibrillator, 1000's of pills and 3 misdiagnoses later, they told me I had Cardiac Sarcoidosis and my life as a rare disease patient began.
Once over the initial shock of being really sick, most patients look for ways to cope and get better – and that's when I found FSR. From the beginning, I got involved with a group of 9 other volunteer "Patient Ambassadors." Then I found myself running a support group which has introduced me to 50 other patients dealing with this disease. They inspire me beyond measure. I've organized fundraising walks with the help of family, neighbors and new Sarc friends; and rally 70+ supporters to play in an annual "Soccer For Sarc" tournament. This is my support community, and they help me to live my best life every day, learning from their experiences, remaining positive, and staying focused on getting better.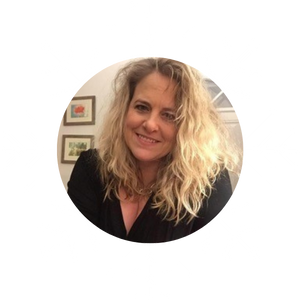 Mary Morlino
My diagnosis saved my life. I first experienced heart failure in 2007. I was given no viable explanation after three hospitals, and lots of testing, although I was given a pacemaker. In 2014, I was experiencing a rapid and severe decline of heart function, still without a diagnosis. I was headed towards a heart transplant. The 'one more test' my doctor called for led to my diagnosis of Sarcoidosis. Immediately, I was upgraded to a Bi-ventricular pacemaker defibrillator.  Six months later, I suffered a cardiac arrest in my kitchen. I was literally shocked, revived and survived. Had it not been for the diagnosis, I would not have received the 'upgrade' and I would have died on my kitchen floor with my 15-year-old daughter experiencing the whole thing. 
The sarcoidosis community is an eclectic, vibrant and supportive community. Before I was an advocate, FSR was my primary source of information related to sarcoidosis and directed me to other people living in my area to connect with. I've been fortunate to meet so many amazing sarcoidosis patients from various places and in various stages of this debilitating illness. The support, information and laughter I continue to experience with so many of Sarc patients has been invaluable. My advocacy work has multiplied exponentially, and I've been fortunate to be able to welcome, guide and support others who, like me, were seeking a community.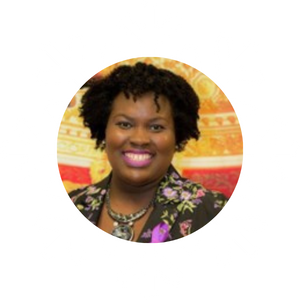 Patricia Rhett
In December 2004, I started experiencing symptoms that mimicked the flu, and was diagnosed with bilateral pneumonia. The accompanying cough, fever, headaches, and fatigue were vicious and non-responsive to traditional treatment, leading to a pulmonology visit and biopsy.  The findings indicated that I did not have the suspected Sarcoidosis, and this rerouted us back to square one. During this time, my symptoms worsened, and my liver enzyme level started to skyrocket. It was a year before I was able to return to work. Ten years later, many of the symptoms returned with a vengeance. This time I had heart palpitations, extreme fatigue, brain fog and leg and feet pain which impacted my ability to walk.  I had to really advocate for myself because my symptoms did not fit the traditional mold and the test results looked normal.  It was six months later before I received the Cardiac Sarcoidosis diagnosis. 
The conferences sponsored by FSR provided a space for me to become educated about the disease and to meet people that also had their careers, family planning, finances and quality of life impacted by the disease.  The multidisciplinary, comprehensive treatment protocol provided by my providers have finally placed me in a position to assist others on their journey. The combination 18 years of experience and unyielding support from the medical staff and multiple support groups makes me the ideal person to go out into the world and champion the case for Sarcoidosis research and funding.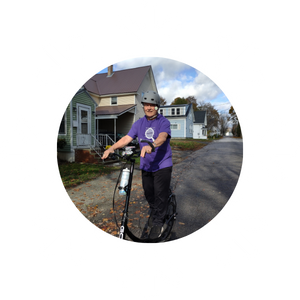 Paul Paradis
For the past 8 years, I have been living with sarcoidosis throughout my body. The doctors, not having much experience with the disease, began their treatment course of prednisone, tapering off and remicaide every 8 weeks at the lowest prescribed level of 400mg and a prognosis of probably having to live with this disease for the rest of my life. At this point, I needed to know a whole lot more about this disease and began my research.  As it is a rare disease more work is needed to fund research and raise awareness to help find a cure.  
My first direct contact with FSR was my attendance at a patient conference in Hersey, PA, 2015. Since then I have attended numerous fundraising events, conferences and workshops learning and understanding much about the world of sarcoidosis. The improvements lead me to expand my treatment and explore music therapy to improve my walking, balance and strength problems I had been suffering from due to lesions on my brain. Since starting this treatment I have discarded my walking cane, have made significant improvements in my walking speed, gait and balance.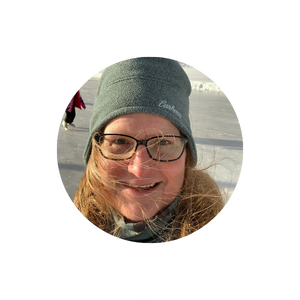 Rebecca Stanfel
All of us with sarcoidosis have unique journeys. Mine has involved the disease attacking multiple organs (my heart, brain, lungs, liver, bones, and GI system), long hospitalizations, and years of harsh treatments like Cytoxan that often felt worse than the disease. Most significantly, my life with sarcoidosis has always been tangled with my experiences as a mother.  
My journey has had stretches of darkness. After a doctor callously told me I could "drop dead at any moment," when my son wasn't yet two, I lay awake at night, listening to my heart beating, and wondered if my only child would even have memories of me.  I resolved to squeeze as much joy as I could from the everyday living I could manage—a good conversation with a friend, dinner with my small family, a slow walk down the block, drawing with my son.  I still have about 20 percent of the energy and capacity I had before I was diagnosed. (And I am very grateful for that 20 percent!). 
There are times when this disease feels unbearable, like living will break us. Whatever happens with your health, those times will pass. Keep looking for joy in what you can do now, and remember this disease does not define you, no matter how debilitating it can be. You will find your path on this journey.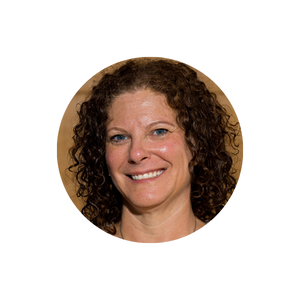 Robin Goble
My journey to get to my diagnosis was frustrating, not just because my symptoms could have multiple causes, but because COVID came and slowed the process down. In the later part of 2019, I began to have severe headaches, shortness of breath, fatigue, vertigo, and sometimes I was forgetting words. Then came COVID and the shutdown. The symptoms of sarcoidosis can be misdiagnosed as many other illnesses. By August of 2020, I could barely function due to increasing fatigue and brain fog.  I was adamant with my PCP there was something else wrong and she finally sent me for that very telling MRI. It showed severe meningitis.  It was the first time I really advocated for myself and my health.  
 Because of COVID, I was given the choice to do all the testing outpatient which would take weeks or go into the hospital and have everything done at one time. I was admitted to Johns Hopkins Hospital and had testing to rule out bacterial and fungal infections, various forms of cancer and other diseases. Finally, a week later, a biopsy that showed granulomas in my lymph nodes and the MRI showed spinal lesions. I had a diagnosis – Neurosarcoidosis. Though it seems it took a long time to get an answer, many people wait years to be properly diagnosed. 
Life with Sarcoidosis can be lonely and isolating. I couldn't hike, bike or do other active things with my friends. I felt left behind.  Though my family is supportive, they often do not understand what I am going through. So, I joined a support group run by the Johns Hopkins Sarcoidosis Clinic and attended FSR Sarc Socials and eventually became a Patient Advocate. Advocates make my journey a little easier and a bit less lonely. I'm so honored to call them my friends. Everyone needs community, and between my family, friends and the folks in these groups I have found mine.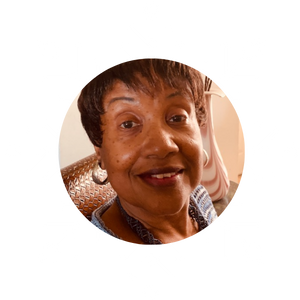 Theresa Govan
I was diagnosed with Pulmonary Sarcoidosis in 1979.  I had a cough that would not go away!  After many tests were done, the diagnosis was Pulmonary Sarcoidosis – Stage 4.  Since that time, it has also spread to my eyes, but thankfully, I am not blind. In addition, I had to have both knees replaced, due to the high doses of Prednisone I had to take at one time, which caused my cartilage to become brittle and deteriorate. Thus far, by having competent, caring doctors treat me over the years, I was able to complete a fulfilling professional career as a Teacher, School Counselor, Trainer, School Administrator, and now, in retirement, a Part - time Psychotherapist.  I also raised my daughter as a single parent after my diagnosis.  In the Washington, DC area, I was a co-founder of a Sarcoidosis Support Group and co-led this group for several years.  My unique fact is that I am still living a productive life as a senior citizen with sarcoidosis and continue to thrive! 
Because I have managed the effects of sarcoidosis for over 40 years, I also believe that I can share my experiences with newly diagnosed patients as well as those who are experiencing daily struggles.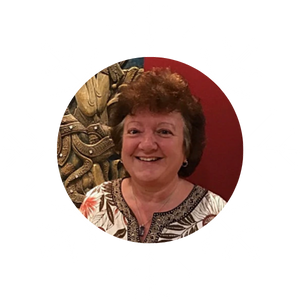 Susan D'Agostino
I spent 35 years of my life working in many different roles as a registered nurse/administrator in health care. In 2015 I had extreme ocular pain which eventually led me to a diagnosis of idiopathic ocular pseudotumor.  After three grueling mental and physical years I finally received a final diagnosis of sarcoidosis.  Five years later I still have sarcoidosis. I had to leave my nursing career working in a hospital due to the fact of having sarcoidosis when the pandemic struck and no one really could tell how patients with sarcoidosis would be impacted.  By this time now, I have had steroids, many different meds, biologic treatment and all those treatments essentially improved nothing, yet certainly gave me a multitude of side effects, the worst being hair loss when my hair would fall out in clumps. 
During this time and after spending many hours on the internet, I found FSR.  It was amazing to me not one physician ever directed me here.  I finally found my community, educated myself, became a patient advocate/volunteer for FSR and essentially took back my life from the dysfunctional health care system.  This is not to say I did not find some compassionate health care providers, especially my rheumatologist and PCP who truly guided me.  Other self-care activities include meditation, daily gratitude, a healthy diet, qi gong and nature walks, friends to talk to who are non-judgmental and just listen, and the best life partner anyone could ask for.