Group Leader:

Kerry Wong

City:

White Plains

State:

New York
Thanks for your interest in joining our group! It's a great opportunity to learn a little, share a little, laugh a little, and most of all, connect in person with people who really understand what you're going through. Whether you're living with the diagnosis yourself or you care for someone who is, you are not alone in this.
2020 meetings will generally be held on the third Wednesday of alternate months with the exception of our April meeting during Sarcoidosis Awareness Month, which will be on a Sunday. Light refreshments will be served at all meetings.
For the December 15 meeting ONLY:
***For a change of scenery, we're going to have our December meeting at a local restaurant: Brazen Fox, at 175 Mamaroneck Ave in White Plains, not far from our regular meeting site. We'll be able to relax a bit more with a bite or a drink, and talk about whatever is most on our minds. PLEASE be sure to RSVP to this one – if necessary, I'll make a reservation, but I'll need to know how many to expect. ***
Location:
Burke Rehabilitation Hospital
Billings Building (#4), Rosedale Room (2nd Floor)
785 Mamaroneck Avenue
White Plains, NY 10605
Scheduled meetings include:
Sunday, 10/20/19, 2-4 pm
Wednesday, 11/20/19, 6-8 pm
Sunday, 12/15/19, 2-4 pm
Wednesday 2/19/20, 6-8PM
Sunday 4/19/20, 12-4PM
Wednesday 6/17/20, 6-8PM
Wednesday 9/16/20, 6-8PM
Wednesday 11/18/20, 6-8PM
 Please contact Kerry Wong at ambassadorkerryw@stopsarcoidosis.org to confirm meeting times and to RSVP. We hope to see you there!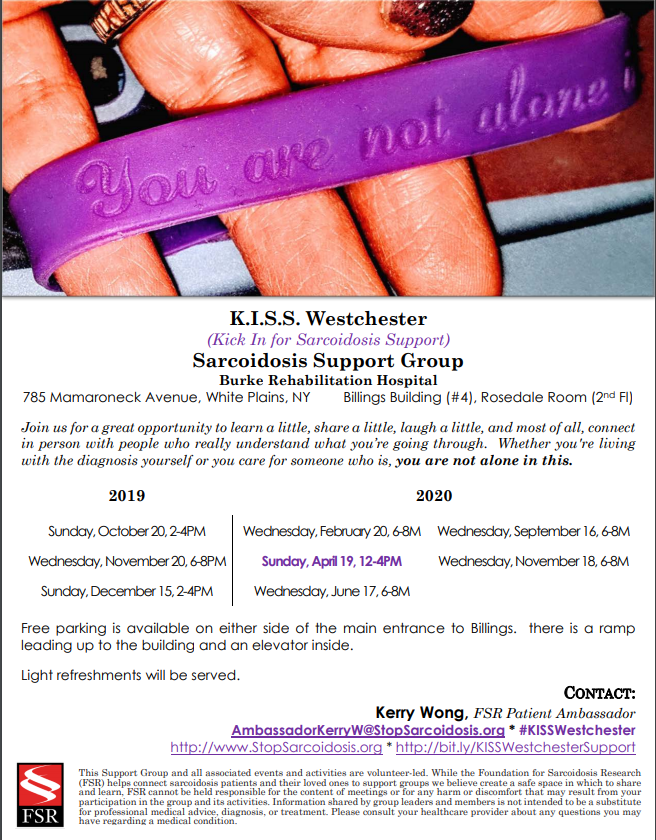 [ssba-buttons]