FSR is proud to bring together sarcoidosis patients, caregivers, and family and friends at the Third Annual Global Virtual Patient Summit: Unveiling Possibilities. This summit is the world's largest virtual sarcoidosis patient event. This year's summit takes place Saturday, July 30th – Sunday, July 31st from 8:00 am – 5:00 pm CT (9:00 am – 6:00 pm ET) and will, for the first time, be presented in both English and Spanish. Live Spanish translations will be available. This event is made possible by our generous sponsors, including our Platinum Sponsor, aTyr Pharma Inc.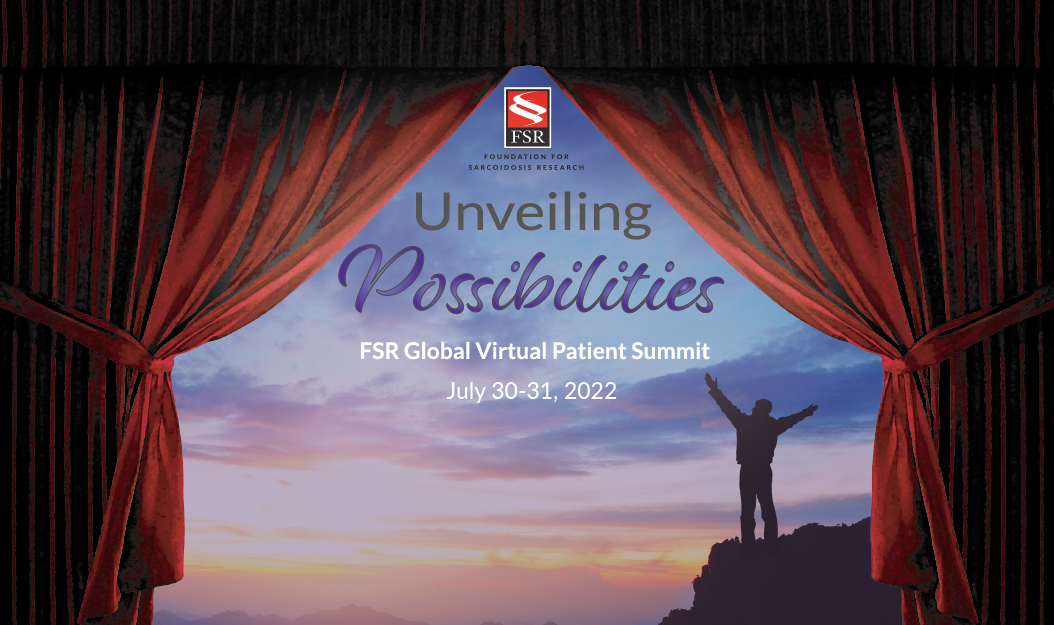 "This extraordinary global event gives us the ability to bring together patients, caregivers, clinicians, corporate, and non-profit partners to explore up-to-date research, clinical practices, and living with sarcoidosis," said Mary McGowan, CEO of FSR. "This year we are proud to have even more engagement from clinics and hospital partners as we offer stimulating networking opportunities."
Unveiling Possibilities will bring connection, expertise, and shared experiences to all impacted by sarcoidosis. Attendees have the ability to choose between educational tracks for those newly diagnosed and those living with long-term sarcoidosis. The summit also offers engaging networking and discussion opportunities, including open chat rooms and guided talks, exhibitor booths featuring the latest in sarcoidosis news, including FSR Global Sarcoidosis Alliance Clinics, and engaging breakout sessions.
Learn and ask questions from global experts who will host sessions on the different manifestations of sarcoidosis, discover life hacks to gain insights and tools to support the sarcoidosis journey, and participate in sessions such as Anti-inflammatory diet, Fatigue Management, and Understanding Steroids and Sarcoidosis Treatment.
To learn more about this event, please click here.
Early bird pricing and scholarships available through July 8, 2022.