Darlene Anita Scott is a writer and visual artist living with sarcoidosis. She applied to become an FSR Global Sarcoidosis Clinic Alliance (GSCA) Community Outreach Leader and is dedicated to sharing her sarcoidosis story with the public to raise awareness and help others living with the disease. To learn how you can join Darlene in making a difference in the lives of people affected by sarcoidosis and work with a FSR-GSCA clinic near you, click here. 
Sarcoidosis found me running. The shortness of breath on runs that should have been "easy" turned out to be heart failure caused by sarcoidosis. I still have heart failure because of scars the active sarcoidosis left. Now, my sarcoidosis is currently in remission and, importantly, I'm still running.
That's the short version. The longer version includes a lot of lessons about myself and this condition. In the years I have lived with this diagnosis, I have learned that parts of my experience that have been named atypical are largely the result of lack of knowledge. At time of diagnosis, I didn't know what I didn't know, and the lack of information could have had catastrophic outcomes.
I'm not the only one who didn't know what I didn't know. There are people like me who will benefit from early detection and treatment of their sarcoidosis. But how will they know? I was privileged to receive cardiac treatment from a WASOG Sarcoidosis Center (World Association of Sarcoidosis and Other Granulatomous Disorders) and FSR Global Sarcoidosis Clinic Alliance member leading to my diagnosis. But many clinicians know little about the condition and its various presentations. Research is still lagging on the various ways it shows up in our bodies, and, as a consequence, treatment protocols are not established and remain hit-or-miss, leaving many sarcoidosis patients to face catastrophic outcomes that could potentially be avoided.
As a storyteller I am a writer and visual artist—I know that stories matter. They introduce us to ideas we never considered and influence our behaviors because of the new knowledge. So, though I spent a lot of time thinking my sarcoidosis story didn't matter, especially because it felt so atypical from many I read about, my clinician thought otherwise and encouraged me to apply to be an FSR Community Outreach Leader.
Bringing awareness to this condition by telling my story is one of the best ways I can make use of the condition and my storytelling practice. "I am only one," as Edward Everett Hale writes "but still I am one." I know that "I cannot do everything, but still I can do something, and because I cannot do everything, I will not refuse to do the something that I can do." Sarcoidosis still finds me running, not as far and not as fast, but not away from talking about my experience as I have in many years since diagnosis.
There are as many stories of sarcoidosis as there are people who live with the condition. Those of us who live these stories can help ourselves—and others—by sharing them, amplifying them, joining the effort to make our singular voices a chorus demanding the attention it deserves.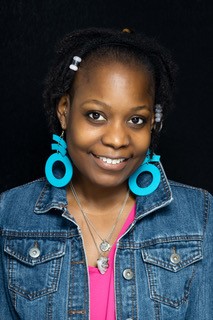 Darlene Anita Scott's work explores corporeal presentations of trauma and the violence of silence, especially in Black girls. Her writing has been supported by the Virginia Commission for the Arts, the Delaware Division of the Arts, USArts Alliance, Virginia Center for the Creative Arts, and Vermont Studio Center among others. Scott's writing appears in numerous literary journals. She is the author of the poetry collection, Marrow which reimagines people lost in a mass murder-suicide at the Guyanese settlement of the Peoples Temple founded by James "Jim" Jones and popularly known as Jonestown, and she co-edited the creative-critical volume Revisiting the Elegy in the Black Lives Matter Era. Scott has exhibited her artwork on the "good girl" widely. It can be viewed in The Journal, The West Review, and The Journal of Compressed Arts, and her photography in Barren Magazine, Auburn Avenue, and Persephone's Daughters.