In February 2022, FSR hosted Ignore No More: African American Women & Sarcoidosis Webinar, a virtual engaging discussion on sarcoidosis, how it impacts African American women, and what can be done to improve outcomes. Mary Oldham was one of the attending members of FSR's Women of Color Patient Advisory Committee who joined the discussion to share her insights as someone living with sarcoidosis. Mary was diagnosed with bone sarcoidosis with lung involvement in 2017. Upon learning that there is no cure for sarcoidosis and a need for better treatments, Mary knew she wanted to help be a part of the solution and began researching clinical trials to participate in.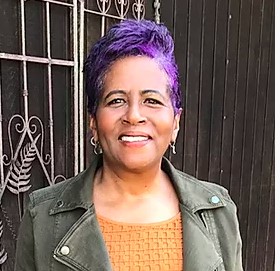 Tell us about your story  – how were you diagnosed with sarcoidosis?
"My story is one of delayed diagnosis, self-advocacy and self-empowerment. I knew something wasn't right. I had persistent pain in my finger that continued to worsen over 6 months. Throughout this time, I kept insisting to my doctor that something was not right, but I kept being ignored. My doctor would say it's nail fungus or I'm pre-diabetic, but none of it made sense. Finally, I was fed up and decided to advocate for myself. I researched and found a team of physicians who listened to me and did a biopsy on my finger which led to my diagnosis of sarcoidosis in my lungs and bone. I researched all I could, and found there were so many unknowns about the disease, especially as far as treatment. I'm always looking to make things better, so I knew immediately I wanted to be part of the solution in finding a treatment and cure."
How did you learn about clinical trials and what made you decide to participate?
"I found FSR and the wealth of information on the website. I learned about and joined the FSR Patient Registry. I learned that there was a clinical trial in my area and that there was a possibility for better treatment.  I was impressed by the medical team that led the trial and they communicated clearly about the benefits, risks and possible outcomes, so, I felt comfortable joining the study."
Walk us through the process from the point you made the decision to participate, to the time you joined the trial?
"I received extensive information about the trial drug, including side effects. The side effects were very familiar to me, similar to side effects listed for other drugs that I have been prescribed for sarcoidosis. The trial drug was an FDA approved drug for arthritis. It wasn't new. It was just being tested for its effectiveness for sarcoidosis.
I was accepted into the study after filling out the questionnaire, did blood work, an EKG, among other tests, and signed a consent form. I received enhanced care and treatment during the trial, and received routine testing for safety. The trial was in two phases. As a prerequisite, all enrollees in the trial were put on a low dose steroid that was tapered off during Phase 1. All participants were on the trial drug as well during Phase 1.
Phase 2 of the trial was double blind, which means the participants and the clinical trial medical team did not know if participants received the drug or the placebo. I was monitored very closely during Phase 2. Additionally, my doctor was in close collaboration with the clinical research team. I was compensated for transportation and received a small stipend at the end of the trial. Finally, participation resulted in a new treatment protocol for me – one I wouldn't have had access to had I not participated in this trial. As a result, I was able to take a different medication that is working better than the medication I used before the trial and has promising results."
What advice do you have for African American women hesitant to participate in clinical trials or research? 
"I understand the hesitancy, particularly for people of color, but the medical community is moving forward with or without us and these trials and research studies are being conducted without adequate representation of African American women. If we aren't represented, how do we know these treatments are best for us? There are many ways we can participate. In my case, I felt comfortable with the clinical trial, but there are research studies that don't require you to change your current treatment plan, you can report your experiences and outcomes via surveys, like in FSR's Patient Registry, or other means. I encourage you to get involved because the future of this disease depends on it and if we want better treatment and a cure, we must be part of the conversation."
Learn more about clinical trial opportunities.
Join the Patient Registry.
Learn more about the Ignore No More: African American Women and Sarcoidosis Campaign.
About Mary:
Mary Oldham received a Bachelor of Science in Horticulture with a minor in Biochemistry from Cal Poly San Luis Obispo, CA. While at Cal Poly, she became a founding charter member of the Lambda Nu chapter of Alpha Kappa Alpha Sorority. After graduating, Mary worked in the horticulture industry for 30 years before becoming the director of marketing for a large restaurant and brewery, retiring in 2019 to pursue volunteer work. Currently, Mary serves on the board of directors for two nonprofits; The HEAL Project and Mavericks Community Foundation.