FSR is excited to be announcing a new addition to our KISS 5K for this year- there will be a KISS race village and a post-race celebration to honor everyone who came out to the event! Join us for the festivities:
Fun for Everyone!
This celebration is all-inclusive and family-friendly… pets too! And you don't need to be a registered runner/walker to participate! Join us in the K.I.S.S. Village before, during, and after the race. We'll have plenty of activities for everyone: face painting and balloon animals with Bobo the Clown, take some pictures in our superhero-themed photo booth! Representatives from Vanderbilt University will also be present to share their knowledge with us!
Awards
We'll kick things off with post-race awards! This year's 5K theme is Sarcoidosis Superheroes. Throw on your favorite character's costume for a chance to win a prize, or make up your own outfit- there's a prize for the best sarc-specific superhero too! Pull together some family and friends for a chance at winning the group costume award. In addition to the costume contest, prizes will be given out for the race's top finishers in the men's and women's category.
Eats
Did somebody say tacos? That's right- a food truck from Nashville's Bajo Sexto Taco will be waiting for you in the race village. They'll have an awesome selection of authentic Mexican snacks and tacos for you to purchase- see what tasty treats will be available!
Atmosphere
There'll be lively music and plenty of good vibes, so bring everyone you know! Whether you're a runner, walker, or a cheerleader at the finish line, all are invited to join us and celebrate. Take the chance to meet other sarc warriors and celebrate our small but mighty community!
Goodies and Shirts
In addition to FSR goodie bags that will be distributed at packet pick up and on race day, we'll have additional Team KISS 2017 shirts for sale. Whether you missed the April 5th t-shirt deadline or you want to snag a few extras for family or friends, we'll have plenty available in all sizes!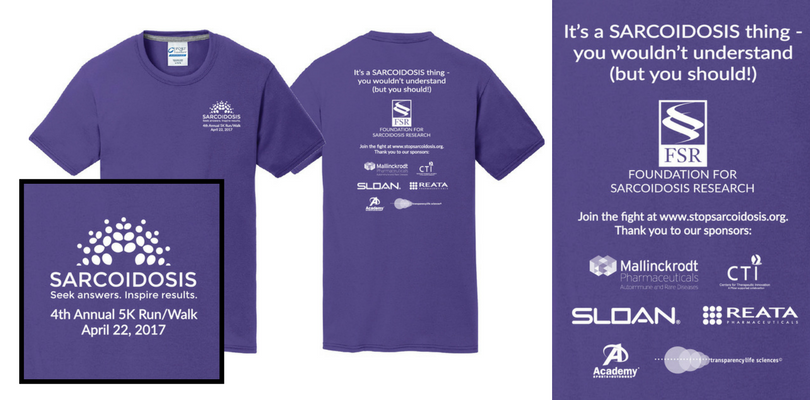 One registered walker has already told us how she's turning the 5K into a family roadtrip. Pack up the family or invite a friend to meet you in Nashville and check out the great attractions that Music City has to offer! Or, invite someone who doesn't know much about sarcoidosis and give them a chance to see why sarcoidosis research and advocacy is worth funding!
Want to help us spread the word? Help us distribute flyers around town!