April is Sarcoidosis Awareness Month!
Today, it is estimated that 175,000 people in the U.S. have sarcoidosis, with an estimated 1.2 million individuals living with the disease worldwide. Despite increasing advances in research, sarcoidosis remains difficult to diagnose with limited treatment options and no known cure.
Join the Foundation for Sarcoidosis Research (FSR) in taking action and pledge to Stand Up for Sarc.
Show how you Stand Up for Sarc!
Join the FSR community and show how you Stand Up for Sarc! Post a photo of yourself on social during the month of April wearing purple showing how you are a super hero for sarcoidosis awareness or write down how you are taking action for sarcoidosis. Make sure to tag @stopsarcoidosis and use #StandUpForSarc!
How to Participate in Sarcoidosis Awareness Month
The best way for someone to learn about sarcoidosis is to learn about your experiences. Share your story and guide people to FSR to learn more about how they can support research and our educational programming.

To raise awareness and unite the community during April's Sarcoidosis Awareness Month, FSR will be hosting a month-long virtual awareness and fundraising challenge! Join us and take Steps for Sarc!
FSR has put together a robust array of educational, wellness, and social engagement programs this month. Connect with other members in the sarcoidosis community, learn from experts, and engage with FSR.
Steps for Sarc
Awareness and Fundraising Challenge
Get your walking shoes and favorite playlist ready and join FSR's Steps for Sarc Awareness and Fundraising Challenge this year!
Get the toolkit here.
FSR has a full schedule of events coming up, and plenty of opportunities for learning, connecting and joining with others to raise awareness of sarcoidosis!
FSR On-Demand Educational Resources.

E

ducational brochures, disability and insurance info, recorded conferences and webinars, and more!

FSR Patient Registry.

I

mprove awareness among doctors and researchers by sharing your experience with sarcoidosis through a 30-minute survey. Your answers to will improve our understanding of sarcoidosis, help researchers design new and improved clinical studies, and help to unlock a cure.

Find a Clinical Trial:

FSR encourages patients to participate in clinical trials, research surveys, and academic

studies to help us advance towards a cure. 

Sarcoidosis Diagnosis and Treatment Guidelines.

Find the latest guidelines from global sarcoidosis experts and share with your clinicians.

FSR created a New Patient Roadmap for those newly diagnosed with sarcoidosis. Click here to view and download the flyer.
Ignore No More: FSR is committed to raising awareness about how sarcoidosis impacts African American women at the highest prevalence and severity. Learn more.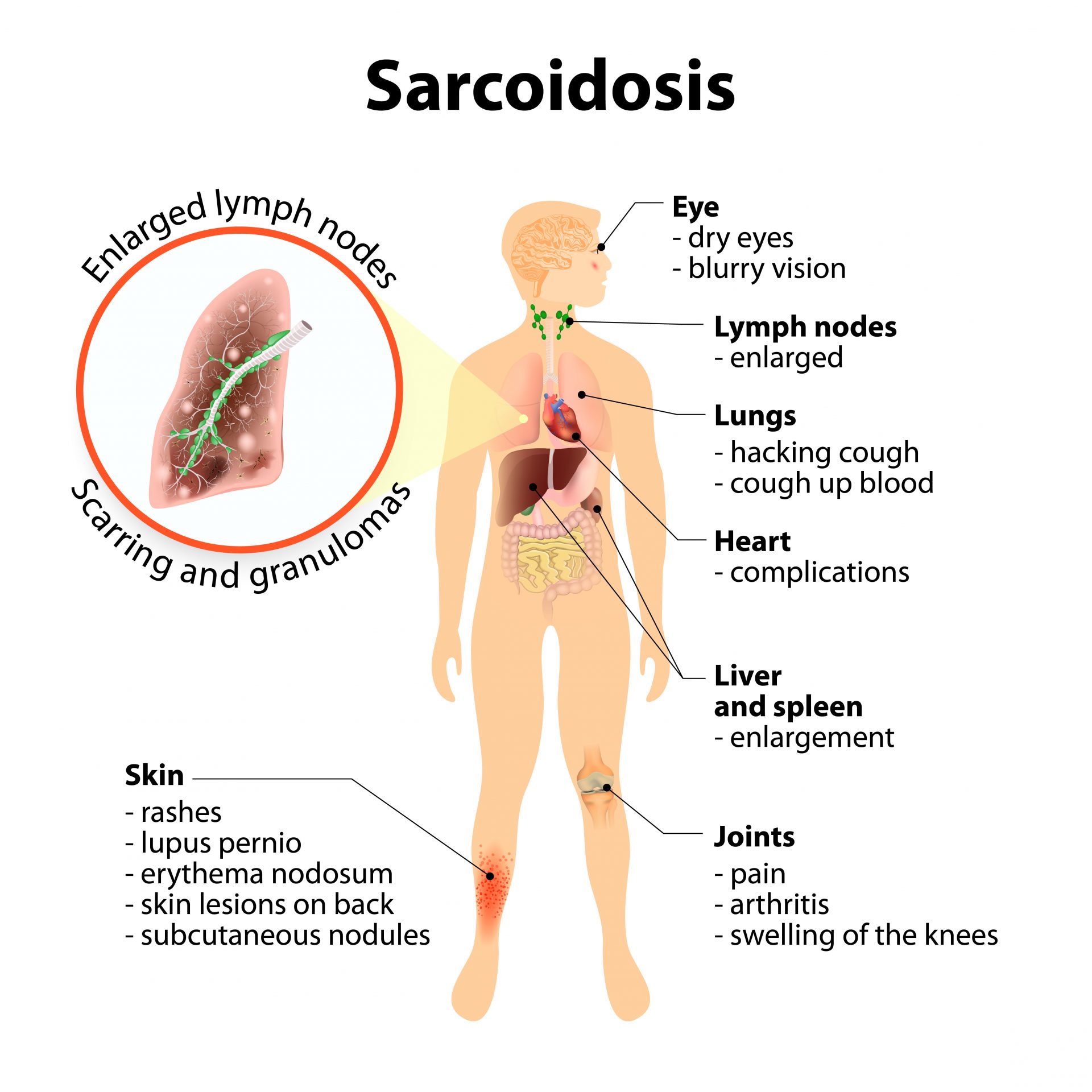 Find Support and Assistance
FSR Patient Navigator Program:

FSR's Patient Navigator Program provides one-on-one support for those newly diagnosed with sarcoidosis, in the diagnosis process, experiencing their first flare, and/or experiencing a new organ manifestation. 

FSR Sarcoidosis Support Group:

FSR has launched an online peer-led support group for individuals who have been living with sarcoidosis for more than six months. 

FSR Videos: View webinar and live event recordings on our YouTube channel or on the FSR website in our new Video Library!
Financial Assistance: On our financial resources page, FSR has pulled together a list of Patient Assistance Programs that provide financial assistance for drugs included on FSR's SAB-approved list of treatment options for sarcoidosis.

Visit the FSR website to view a list of assistance medication programs and access our

Prescription Assistance Card.
​Inspire Online Community: FSR is proud to partner with Inspire on the online Stop Sarcoidosis Support Community to provide a much-needed space for those living with sarcoidosis to come together and share experiences. Connect with over 60,000 other sarcoidosis patients and caregivers. 
FSR Sarc Fighter Podcast: FSR sarcoidosis advocate, John Carlin, produces a podcast specifically for individuals whose lives are impacted by sarcoidosis. He discusses the big topics that affect sarcoidosis patients and their loved ones from the basics of the disease, lifestyle changes, treatment options, research progress, and most importantly: the voices of those affected by this disease. Listen here.
Raise Sarcoidosis Awareness All Year Long! T

here

 are countless ways you can take a proactive role in keeping

the conversation going all year long to help

raise awareness and funds for sarcoidosis research.

Click here to learn more.
Sarcoidosis Awareness Toolkits
Our social media kit contains graphics and language to share during the month of April to help raise awareness for sarcoidosis and Step Up for Sarc! Download the toolkit here. 
Shop to Support Sarcoidosis Awareness!
Clinic Awareness Programs
UT Sarcoidosis Clinic
-April 4-6: Houston City Hall will be lit up in Purple April 4-6 annually for sarcoidosis month.
-April 25: Multi-disciplinary Sarcoidosis Meeting (MDSM).
-April 29: Janine Sarcoidosis Outreach foundation is hosting the "walk for cure" on 4/29/2023 at 8am, at 7008 S Rice Ave, Belair Tx 77401. Please visit www.JSOF.org to register.
-April 30: Texas Medical Center (TMC Houston) will light the water fall and police station in purple.