"My hope is that this campaign will greatly increase awareness of sarcoidosis and encourage Black patients to participate in clinical trials. That will ultimately improve our lives and benefit everyone in the sarcoidosis community."
Calvin Harris
FSR Patient Advisory Committee and ACTe Now Committee Member, Calvin Harris, shares the importance of increasing awareness and representation of Black patients in clinical trials to improve care for all. Read his full blog here.
Click here to complete the patient survey for Black Americans with sarcoidosis to share your experiences and insights to help improve care and treatment for Black patients.
Read the blog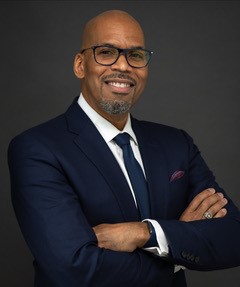 Calvin Harris is based in Brooklyn, New York and serves as Chief Executive Officer of the New York State Society of CPAs. He grew up in Maryland, near Washington, DC, and was diagnosed with sarcoidosis in 2014. Calvin's version of sarcoidosis affects his lungs, skin, lymph nodes, and bones. Despite the challenges of the condition, Calvin strives to live a balanced life in service of others.
Calvin writes a column, "Run Your Own Race," for SarcoidosisNews.com, inspired by his newfound enjoyment of running, something that his first sarcoidosis doctor told him was not possible, but later doctors encouraged. He hopes that his column will help remind fellow patients and others that our sarcoidosis journey is uniquely our own race to run. Calvin serves as a member of FSR's Patient Advisory Committee, and ACTe Now Patient Advisory Committee.