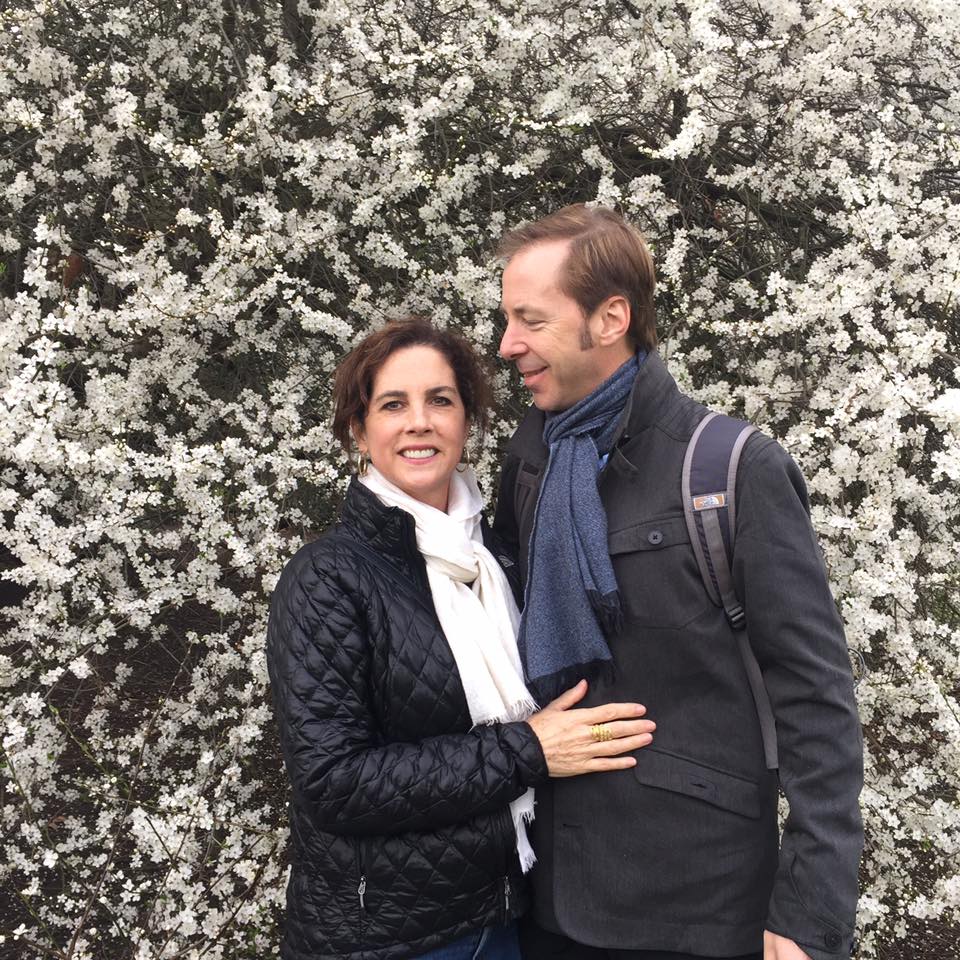 As part of FSR's 20th Anniversary, we're profiling some of the people who make everything we do at FSR possible, including our co-founders, Board of Directors, and staff. First up, meet our co-founders, the Wilsons! Andrea Wilson is a sarcoidosis warrior and member of FSR's Board of Directors. Reading Wilson, Andrea's husband, has previously served as FSR's BOD President and is currently serving as Interim Executive Director managing FSR's day-to-day success. Read their story and some interview questions below!
Their Story
After eight years of seeking answers surrounding a daily routine of pain, fatigue, and seemingly unconnected symptoms, a long-awaited diagnosis should have provided some degree of relief.  "I'd been consistently misdiagnosed for eight years," Andrea Wilson recalls. "I was told it was multiple sclerosis. I was told it was a brain tumor. I was told it was just stress — that I was freaking out, that it was nothing." It was only when a chest X-ray revealed massive scarring in her lungs that doctors determined that she suffered from multi-system sarcoidosis.
She immediately began a search for resources to guide her treatment decisions and cope with her diagnosis to no avail. She was shocked by the lack of knowledge and frustrated with the deep gap in research within this rare disease. With great determination to end the isolation often felt by sarcoidosis patients, Andrea and her husband Reading set out in 2000 to build a non-profit to promote awareness and accelerate research for sarcoidosis.
Hear the Wilsons on the Sarc Fighter Podcast
Q&A with the Wilsons
How did FSR start?
AW: 1995, I had been misdiagnosed for almost 8 years with many illnesses including Meniere's disease, a possible brain tumor, MS, Epstein Bass, and various tropical diseases. I was finally properly diagnosed with pulmonary sarcoidosis in 1995. I wanted to change the landscape of sarcoidosis and help discover better treatments and ultimately, a cure for the disease.
RW: Andrea was diagnosed around 1995. In 1999, when we were living in Chicago, we decided to start FSR because of the frustrations we had trying to get answers and good medical care for Andrea.
What accomplishments are you most proud of?
AW: Personal -Our daughter, Maddie. Hands down! Professional – By creating FSR to make a difference in the lives of sarcoidosis patients and their families worldwide. Receiving the World Sarcoidosis Person of the Year Award in 2014.
RW: The positive impact we've had for patients all over the globe. I hope we can be more impactful going forward and find some new/effective therapies that can replace steroids and other frontline drugs prevalent now.
What is your favorite FSR story, event, program, or initiative?
AW: The Ambassadors and Patient Advocates are and extension of what we do at the foundation. They are our army of trained, organized, self – starters in their communities educating and supporting numbers of those diagnosed with sarcoidosis. They further the mission of FSR and we are so incredibly grateful for them! I am so proud of all of our programs and for all of the work that has gone into making them have an impact.
RW: So many! The KISS fundraising galas we used to host were a ton of work but great fun too! Awareness month and the FSR Team KISS 5K (I came in 2nd in 2018!) and meeting sarc peers at FSR conferences.
What do you view as FSR's greatest accomplishment in the past 20 years?
AW: Evolving from a grass roots organization to a multi-million dollar one! And having a Board of Directors that are so dedicated to our mission who are willing to lean in.
RW: Growing. Becoming more relevant, helping patients, and raising awareness. Also, helping our staff build rewarding and meaningful careers serving the sarcoidosis community.
What's a fun fact about you?
AW: In our last neighborhood I was known as the Pajama Gardener." Also, I love riding in hot air balloons. I love to cook; hate to bake. Will be your best friend if you take me fishing. I'm secretly a hermit. I'm an adrenaline junkie.
RW: I hate to lose! I love tennis, love my family, and enjoy being silly sometimes.