Help us Paint the Map Purple!
Although patients and their families recognize sarcoidosis to be a devastating illness, more volunteers are needed who will join us to advocate for awareness. There is much work to be done to determine the cause, exact prevalence, and best treatment protocol for sarcoidosis – it is unacceptable that many patients have to suffer for years before receiving the correct diagnosis or proper treatment.
An easy way to get involved and raise awareness for sarcoidosis is by obtaining a proclamation for Awareness Month. A proclamation is essentially an official, signed document proclaiming that your local or state government recognizes April as Sarcoidosis Awareness Month.
You can help!
Our proclamation toolkit makes being an advocate for more awareness among local and state officials easy! In many states, securing a proclamation is as easy as a Google search and a form submission.
Here's our map for 2019: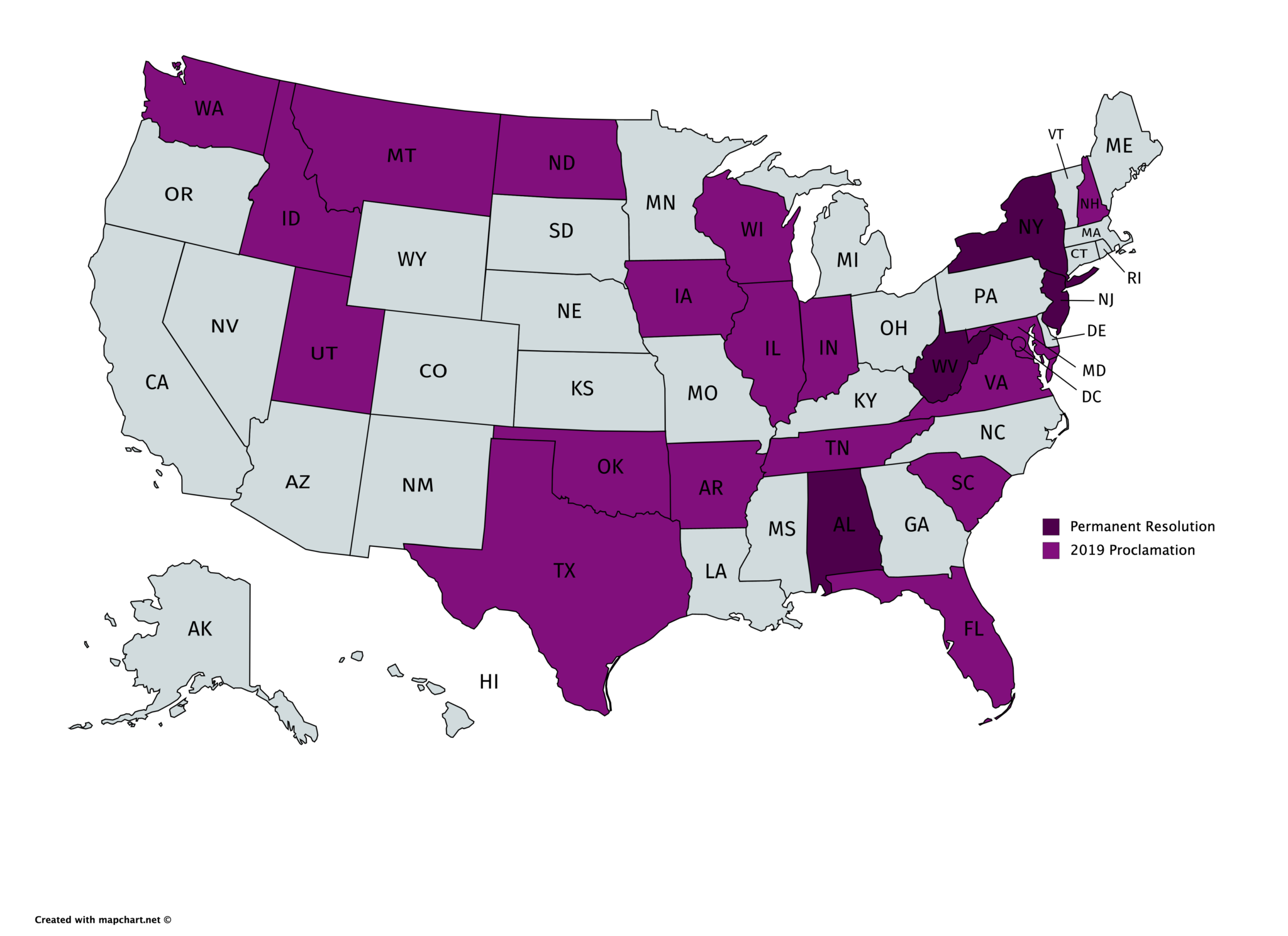 We are trying to turn the entire map purple by April 30, 2019! Fill out the form below if you are working on obtaining a proclamation or plan to for April 2019. This way, we can be aware of which states already have proclamations in the works and which we need volunteers for. We can also connect you with others in your area so you can collaborate on any work that needs to be done to obtain the proclamation.
Let us know once you've obtained a proclamation for your state and we'll paint your state purple!
Please note that some states may say that instead of a proclamation they will only draft letters of support – please encourage them to do so and we'll paint the state purple on the map.
Sample Proclamation Language
Whereas, sarcoidosis is a potentially debilitating and deadly multi-organ, inflammatory disease, estimated to affecting 200,000 people in the United States;
Whereas, the signs and symptoms of sarcoidosis vary widely depending on the person and organs affected and can include debilitating fatigue; shortness of breath; difficulties with balance and coordination; irregular heartbeat; visual problems, including blindness; pain affecting joints and muscles; weakness or numbness of limbs; skin rash and discoloration; mood disorders such as depression and anxiety; organ failure; and sleep difficulties;
Whereas, Sarcoidosis can affect people of any age, race, or gender, but is most common among adults between the ages of 20 and 40 and 3.8-fold higher in African Americans than in whites;
Whereas, research suggests the cause of sarcoidosis is a combination of genetic and environmental factors, but the exact cause and progression of the disease is still unknown;
Whereas, sarcoidosis is a diagnosis of exclusion as there is no objective test, biomarker, known case, or cure;
Whereas, volunteers, researchers, caregivers, and medical professionals are working to improve the quality of life and prognosis of persons living with sarcoidosis and their families;
Now, therefore, I, _____________________________, do hereby proclaim April as Sarcoidosis Awareness Month. In Witness Whereof, I have hereunto set my hand and caused the Great Seal of _________________ to be affixed. Done at _________________ in the _________________________________ this _____ day of ________________ in the Year of Our Lord two thousand ________.