Every year in June, the friends and family of the late Jerry Mac Grimes (1946-2014) get together for the June JAMR, a motorcycle ride held in Jerry's memory. This event is not only a chance for the community to congregate and remember Jerry through one of his greatest passions, but also to raise awareness of this disease and funding for sarcoidosis research. This year, Jerry's family and friends raised an amazing $3,000 to support sarcoidosis research. The following is republished from the June JAMR website:
On June 10, 2017 the third annual June JAMR (Jerry's Annual Memorial Ride) rolled to life once again. Blessed with beautiful, sunny weather, we welcomed riders for registration at Ray Price Harley-Davidson of Raleigh, NC, early morning. Our team showered riders with bike towels donated by sponsor Gary Poole Motorcycle Accident Attorney, and swag bags donated by Tom McGrath's Motorcycle Law Group. Our turn out was superb, yet our objective is to increase our rider participation annually. Please spread the word of our great ride, saddling up for Sarcoidosis awareness, always the second Saturday of each June! We hope many more of you will join us next year.
A non-profit volunteer organization, our mission is to produce an annual motorcycle riding event in the memory of the late Jerry Grimes of Goldsboro, NC. In addition to honoring Jerry's life and love for motorcycles – our objectives are to raise charitable funds for the local community, increase awareness, and further research of Sarcoidosis, an inflammatory organ tissue disease that led to Jerry's passing in 2014. This year, in addition to proceeds going to the Foundation for Sarcoidosis Research (FSR) and Faith FWB Church of Goldsboro (Jerry's home church), JAMR board members ear marked the ARR-Mac Water Response Team of the Wayne County area (Jerry's home) for their stellar efforts year round and especially in the wake of Hurricane Matthew last October.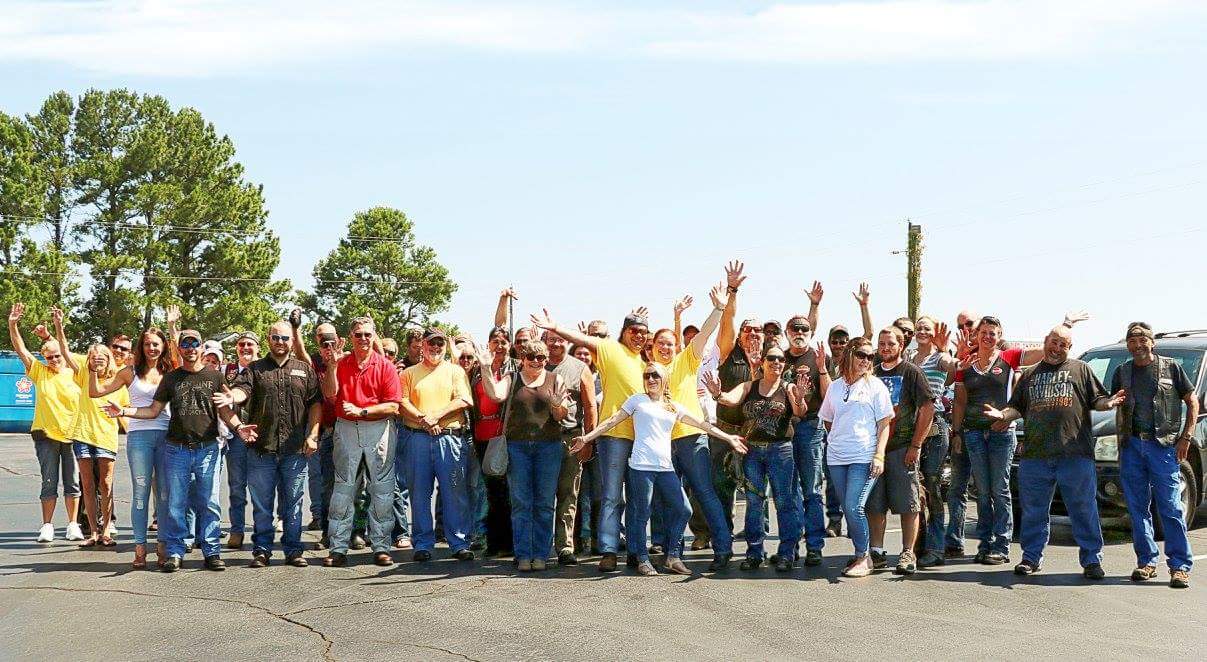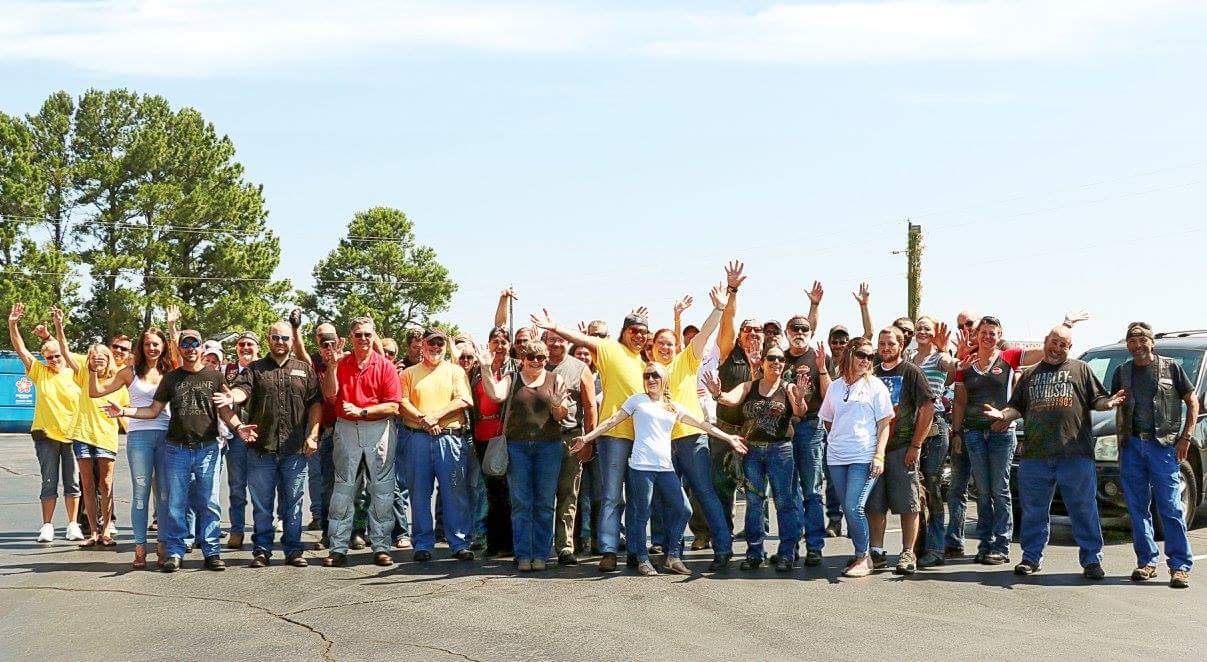 In addition to the ride, we hosted our first silent auction, which enhanced our annual fundraising and found homes for some great donated items with happy bidders. We also announced the winners of our big item raffle, which had been underway since early in the year. This too, was a first for the JAMR and a huge success! A $100 cash prize, won by Dan Bailey, was happily donated back to the JAMR. A Remington pump shot gun was claimed by Jean Paul Foisey. The grand prize, a Yamaha Inverter Series Generator was claimed by Todd Spratt, a multi-year participant and supporter of the June JAMR! Other fundraising opportunities included a 50/50 raffle (again, the winner, Mr. Steve T., returned the loot to the JAMR cause). Handmade bracelets and JAMR t-shirts were also available for purchase.
The June JAMR was underway with kick stands up at 10 am. A mostly escorted event, thanks to multiple law enforcement agencies over a five county wide radius, our first stop was at Ron's Barn BBQ & Seafood in Coats, NC. There, Mr. Tim O'Connell emceed our lunch with door prizes (donated by sponsors Ray Price Harley-Davidson of Raleigh, Fun Products of Goldsboro, Farm Bureau of Mt. Olive, and Popeye's Louisiana Kitchen), sponsorship recognition, volunteer recognition, and information related to Sarcoidosis.
Troy Grimes, co-founder of the June JAMR spoke and recognized special dedicated volunteers Tony Glemming and Christine Gavrelos for their unending support at EVERY JAMR event and fundraising opportunity this year, as well as past year participants, who had been at every June JAMR event to date, including the initial Poker Run in May of 2014 in honor of Jerry, before his passing. Lunch, as usual, was a phenomenal hit and raved over by everyone. Nothing beats BBQ and fried chicken done right!
The second stop of the ride was a new stop, Heidi's Two Wheel Café in Smithfield. A brief opportunity to refresh and relieve was afforded here, while Heidi's bar staff served up ice cold refreshments! Much appreciation to Heidi for hosting us briefly for a cool down. If you haven't visited this great biker grill and bar, you need to make the time! You will be glad you did!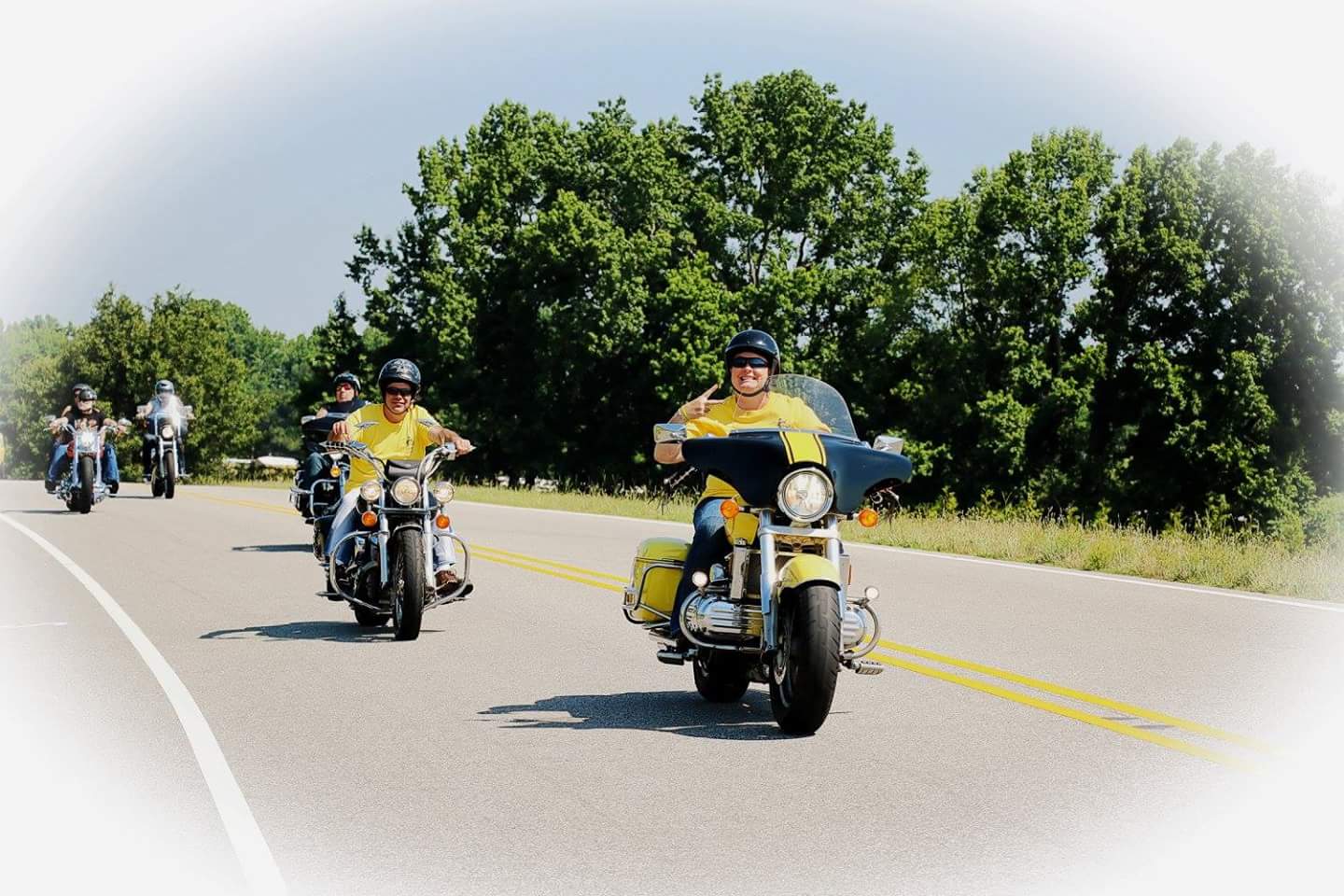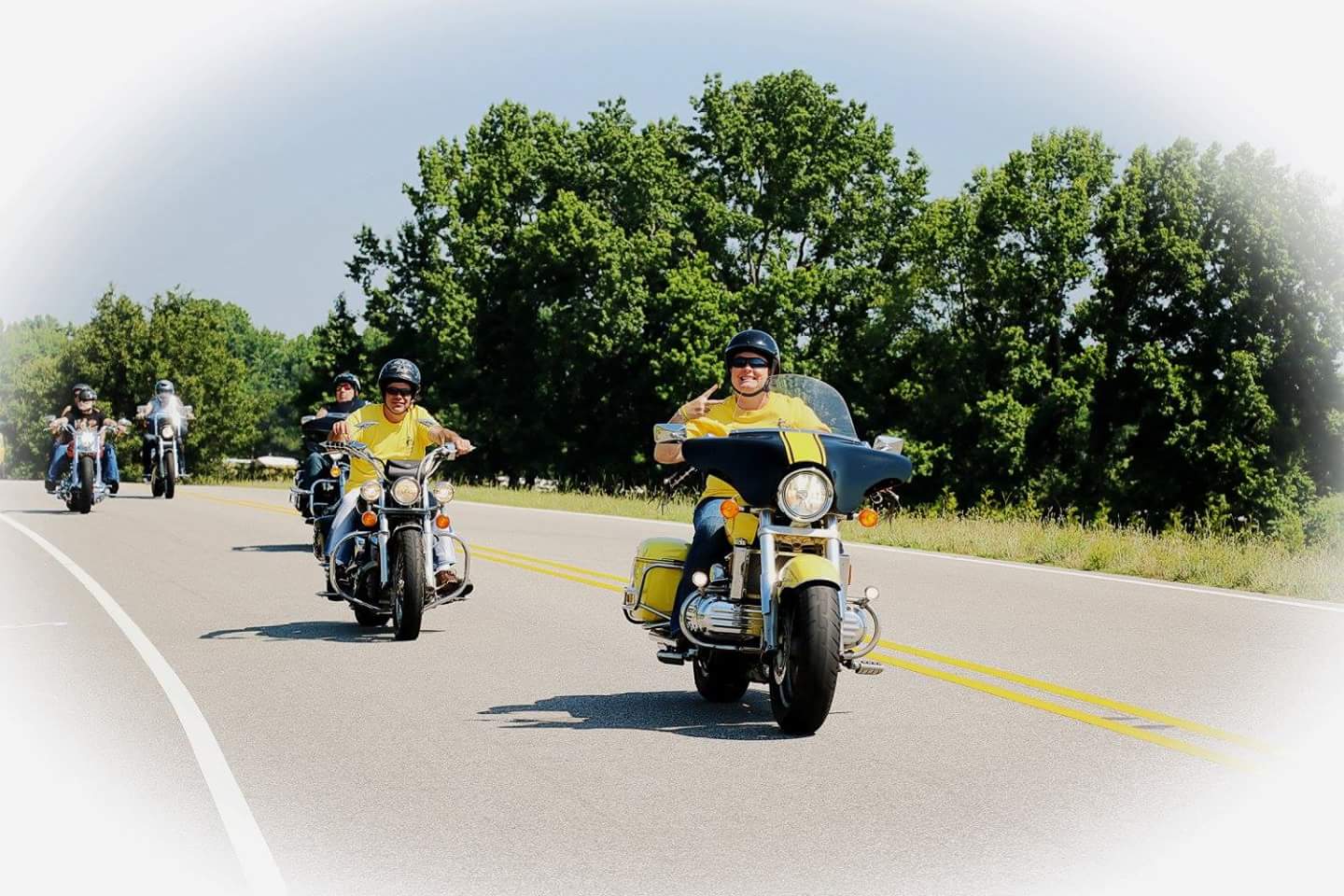 The third stop this year was Fun Products of Goldsboro, one of our major partners from the beginning and also Jerry's last place of work. Winners of the silent auction and the big raffle were announced here. Troy led a brief memorial service for Jerry near the desk he had worked at for nearly 17 years. Past year memorials had been held at Jerry's graveside, but board members elected to hold the memorial part of the ride at Fun Products this year, so Jerry's work family would be able to participate.
The last leg of the ride brought us to Cycle Max in Wilson, where we had a few final door prizes, donated by Cycle Max and announced the winner of our 50/50 drawing. Though everyone did not make it to the final stop, electing to bow out early, there was still a good representation of our starting line, and we all enjoyed end of day conversation and laughs.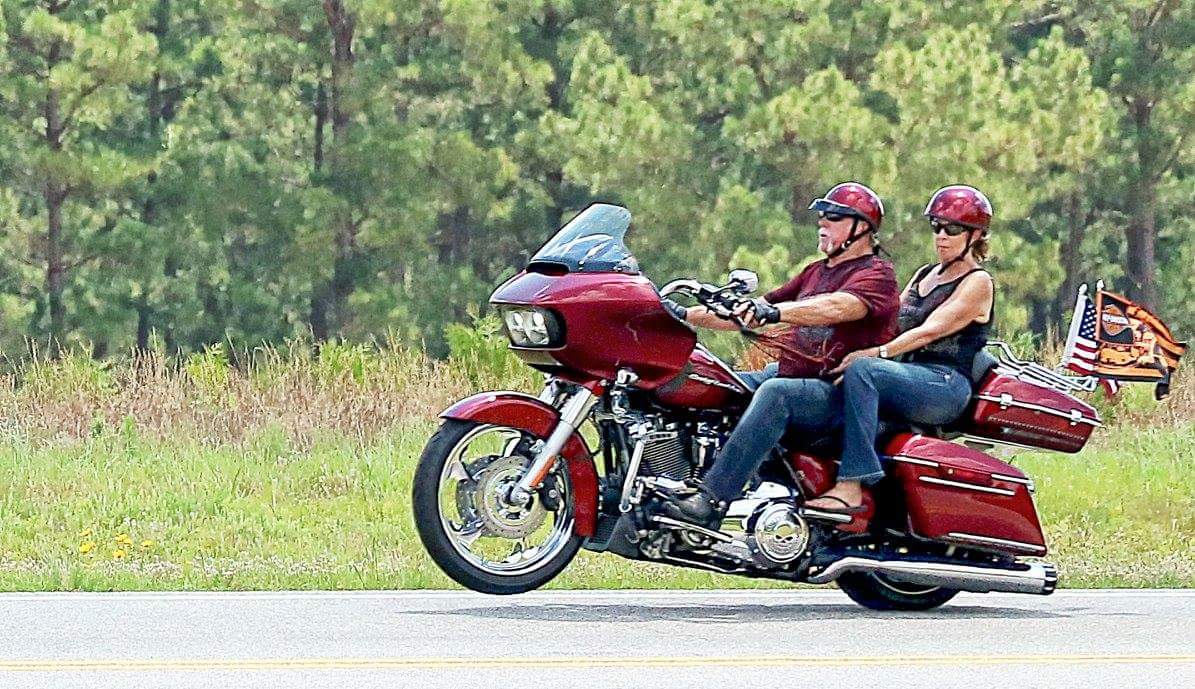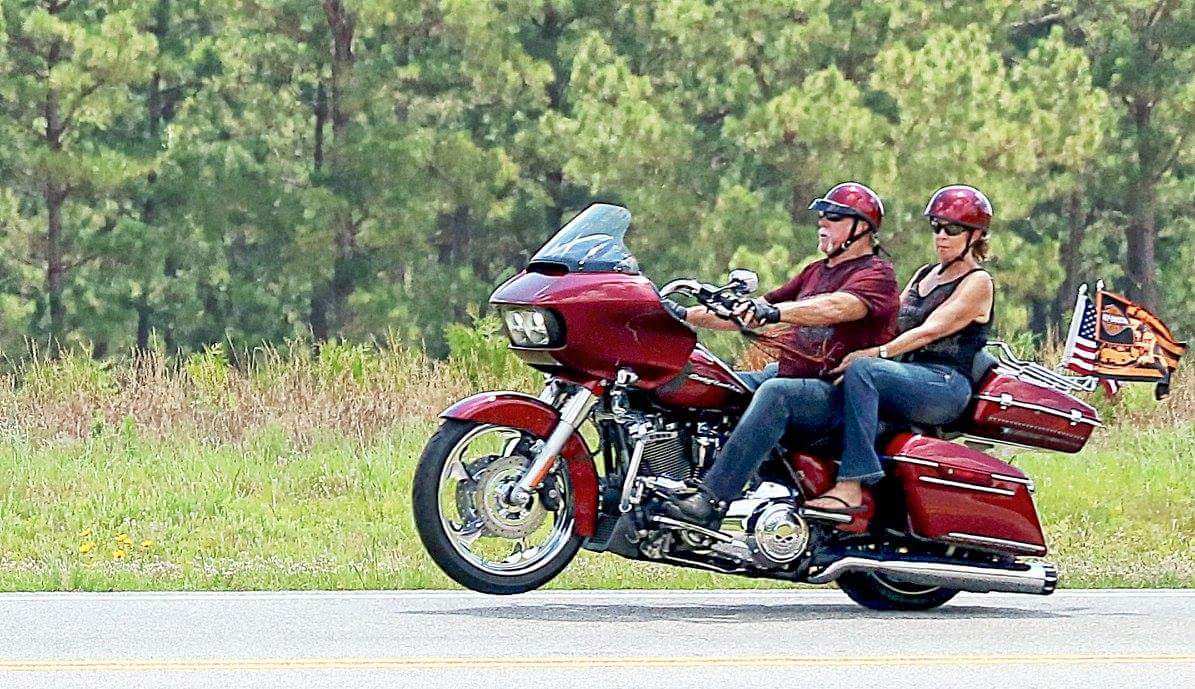 Congratulations to all of the winners and thank you to every single participant! You are the back bone of our prosperity! Thanks to all of our sponsors, in addition to those already mentioned, Reese Sign Company of Pikeville, Kennedy's Paradise Pawn of Benson, Geico Local Office, and Goldsboro Record and Printing of Goldsboro. A special thanks to Behind Barz Magazine for being a JAMR partner since our beginning…and for stepping up to become our very first Chrome Level sponsor this year! Also a special thanks to Melynda Snead (AKA Moe) for being our official photographer since our beginning. Additionally, a huge thanks to all of our great volunteers who helped make our main event this year a success.
Though our fiscal year has not yet ended and we still have donations coming in, we expect to be able to meet and hopefully exceed past year donations to our recipients. To learn more about June JAMR or if you would still like to make a donation because you missed our ride, please visit www.thejunejamr.org. Remember, mark your calendars now for June JAMR 2018 – June 9, 2018!